I do have someone special in my life, but we don't really celebrate big occasions like Christmas and Valentine's Day together because our jobs don't often permits us, as we were both in the Food and Beverage Industry, and we all know how hectic these occasions could be.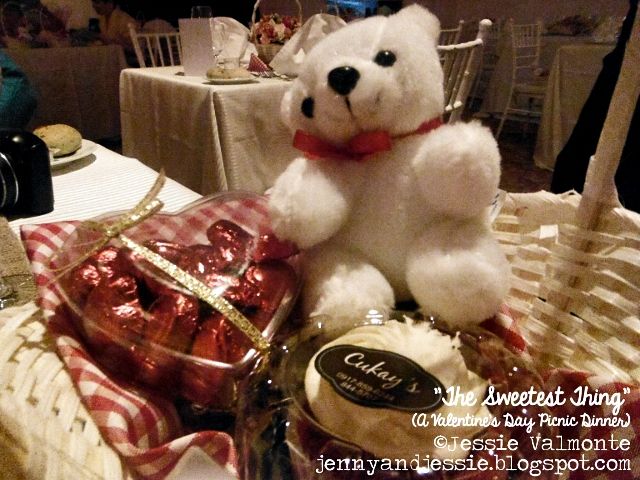 This year, my work schedule allowed me to celebrate Valentine's Day, not with the someone special, but with my dear sister, through "The Sweetest Thing" (A Valentine's Day Picnic Dinner) held at the Rockwell Tent. As soon as we found our seats, there were already a basket of goodies waiting for us. I have been craving for Red Velvet cupcakes and seeing this one by Cukay's wowed me big time!
Couples came in the venue one by one... but staff started serving the guests as soon as they were ready to eat. Catering was by Bizu Patisserie and here's what we had: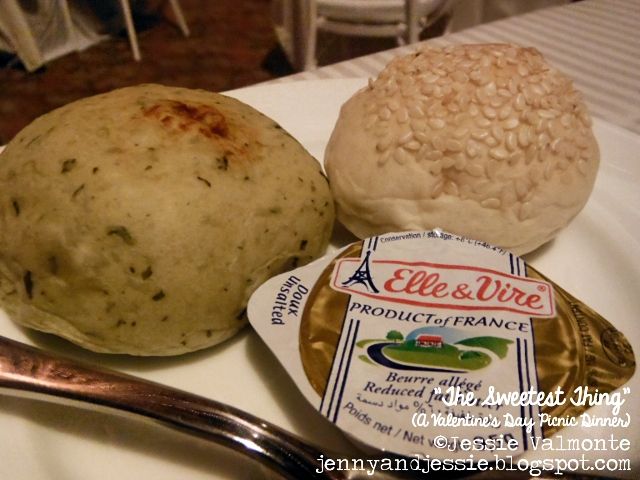 Just like the basket of goodies, this small plate of
Focaccine
and
Sesame Seed Roll
with butter was already on the table waiting for us. I only ate half of each bread as I don't want to make my tummy feel full immediately.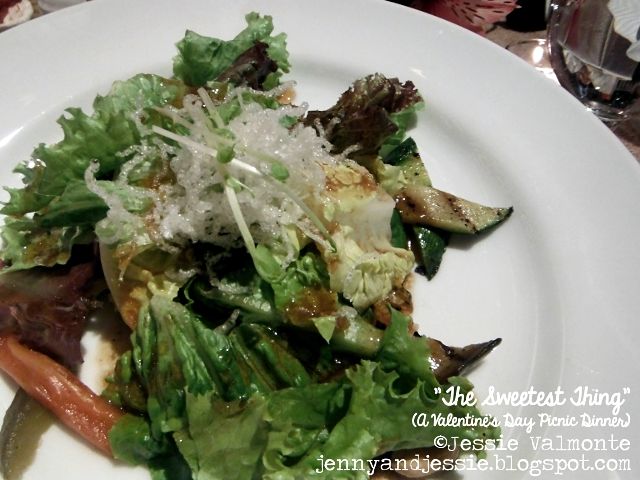 The salad is called -
Oriental Salad with Grilled Zucchini, Carrots, Pineapples, and Aubergines tossed with Mesclun and Special Oriental Dressing topped with Crisp Vermicelli and Black Sesame
- very long name for a dish, but I didn't mind it as this was amazingly delicious! Well, I am not a big vegetable person so some of the ingredients I didn't eat, but just eating the lettuce, eggplants, peanuts and the vermicelli was enough to make me say this was good. I super loved the interesting flavor of the dressing.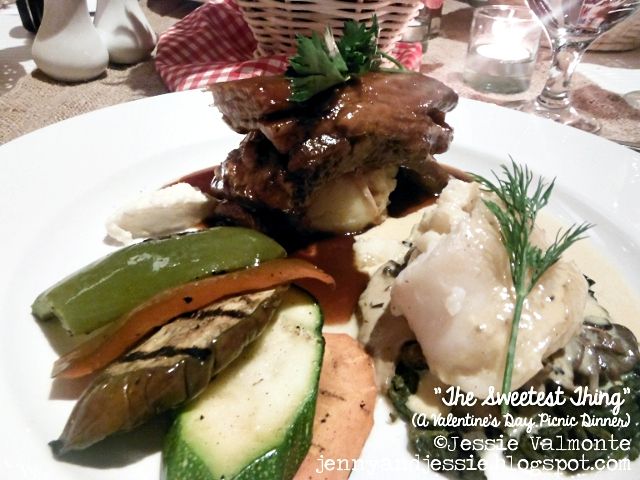 Main course consisted of
10-Hour US Roast Beef Belly with Demiglace Sauce
and
Cobbler Fish with Mushroom and Spinach Cream
with
Grilled Vegetable Brochettes
and
Mashed Potatoes
. I only gave the fish a taste as I am not much into fish (yeah, I guess I am a difficult person to feed), so let me just talk about the beef more. It was tender, not fatty at all... and mixing the mashed potatoes with the horseradish dressing (served at the side) made a good combination. The spiciness of the horseradish umped the taste of the beef, while the potatoes subdued the sharp flavors of the horseradish.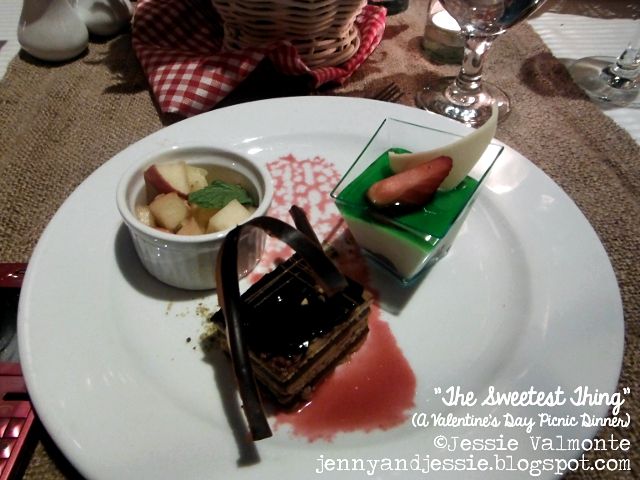 The desserts consisted of
Opera Cake
,
Calamansi and Raspberry Mousse Trifle
, and
Fresh Fruits with Syrup
. The very first time I tasted Bizu Patisserie's cakes, I already loved it, so I am sure I'd love these, too, and I did. The Opera Cake was so divine, and the Calamansi and Raspberry Mousse Trifle was such a surprise. Well, the Calamansi flavor was strong yet it wasn't too sour.
Throughout the dinner, we were served wine (I chose white over red), peach flavored iced tea (super good), and when the desserts were served, we were asked if we wanted coffee or tea. I chose coffee because I will be on a graveyard shift and I needed a strong cup of coffee to keep me awake.
The Manila String Machine performed during dinner, and right after, guests were treated to the movie screening of "Valentine's Day," something that we weren't able to watch anymore because I had to be at work at 9pm.
This was the second year The Rockwell Tent hosted "The Sweetest Thing," and this tradition is now going to be an annual event. It was a good way to celebrate the day of hearts and love... and I am so thankful to my sister for inviting me.