I wasn't able to update this blog much this week, but I am doing well with the diet and exercise. I still haven't checked my weight, but I have no major expectations, I am just happy I am on this road to wellness again. Recapping the week...
H

APPIES: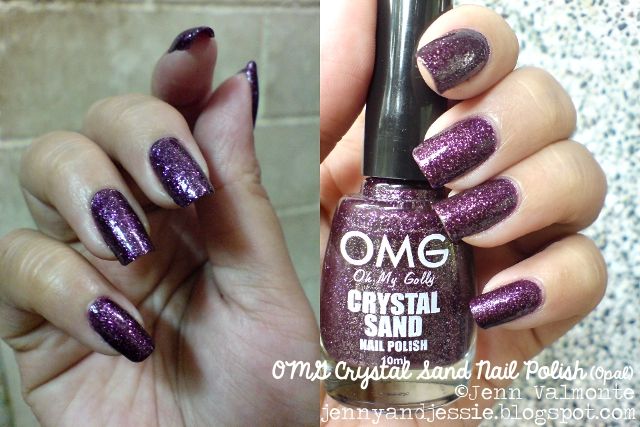 *
Painting my nails purple
. Last December, I treated myself to a mini nail polish shopping and part of what I bought were the Crystal Sand collection of OMG Nail Polish. It was just last Wednesday that I was able to make a full manicure using one of the nail polishes and I loved it! Recently, I started blogging about my "Nail of the Day," I still have 4 lined up posts before I could make a full feature, but if you're interested to check my Nail Files, just click
here
.
*
K's E-Mail
. It was in 2010 when he last traveled here...last weekend, I received a message confirming his travel back to the Philippines later this year. We have wished, hoped, and prayed to have another holiday, and now it's all confirmed. Best news... he's staying for three weeks!
*
Exercise and Diet
. I'm still doing a lot of adjustments, but like what I said, I am just glad I am doing something about it.
*
Updating most of my blogs
. I currently maintain 5 blogs with different niches. There's a travel blog -
Jenn on the Go
, a photo blog -
Shutter Happy Moments
, a food blog -
Tara, Let's Eat!
, a personal / beauty / fashion blog I co-author with my sister -
Jenny and Jessie
, and this. Time management sure was difficult, but I am thankful that I was able to do well with the blogging this week. Hopefully next week, I can update every blog everyday as well as hop into different blogs as well.
*
Spending a full day of shopping with mom and sis
. Wasn't able to buy any clothes (as most are small), but I was able to buy some nail art supplies. Happiness!
*
Invitations to events
. It truly melts my heart whenever I receive invitation to events.
*
Exchanging text messages with my high school friends
. I asked if I could borrow a clutch bag or any small bag I could use for cousin Marge's wedding, and it opened a much deeper conversation. While we were in High School, talks about relationships isn't something we don't tackle; now we can just share anything about it as well as giving advises.
CRAPPIES: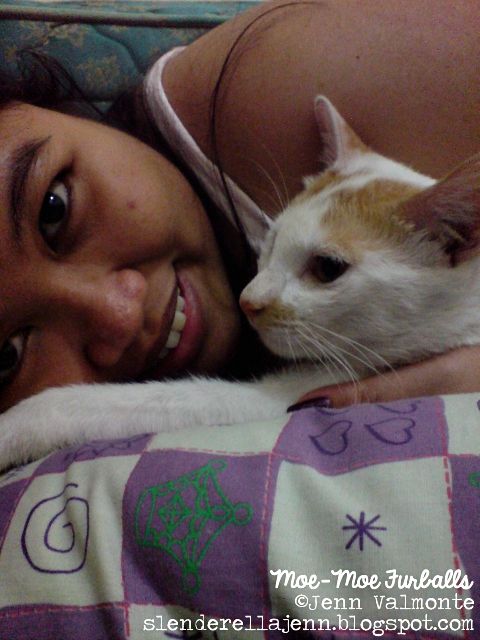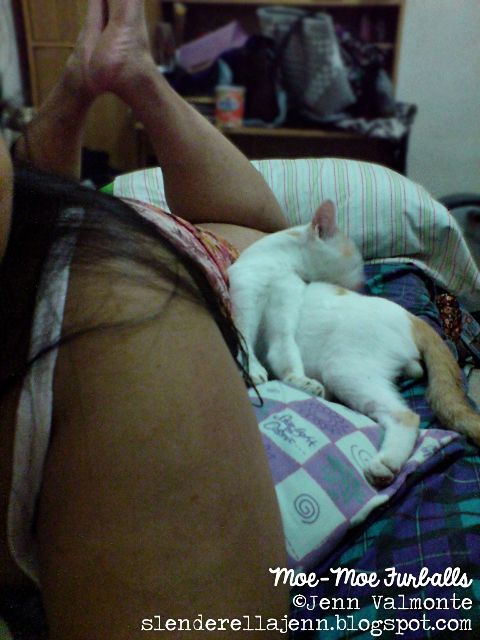 *
My cat Moe-Moe Furballs wounded
. I noticed something pinkish-reddish on my cat's tummy area, and I was so scared when I realized it was a deep, long, wound. I truly feel like I am this cat's mother because I felt so helpless seeing his situation, but I just let him heal himself as I fear putting some ointment might do more harm than good. Last Tuesday and Wednesday he seemed a little quiet and sad, but I find it so cute whenever he would sleep on his back (like a human). He's much better now... wound is healing and he's being the naughty cat again.
*
Missing the Wine Tasting event.
I don't drink wine (by choice), but it doesn't mean I won't drink wine. I wasn't able to open my e-mail for nearly two days and I was surprised to read an invitation from Nuffnang about a wine-tasting event at Marks & Spencer. Oh boy.... I regret missing that one.
*
Bloody Mary
. The biggest downer this week - it's just puzzling and scary to know I am having my period again after just 10 days.
*
Song lyrics!
This isn't a crappie, crappie... but more of a "scarie" one. :) My cousin Marge asked me to sing a song on her wedding this Sunday, and just this week, she changed the song details (I was supposed to sing "Runaway" by the Corrs, she asked me to sing "My Valentine" by Jim Brickman), and although the song is a familiar one to me, I realized I don't know the full lyrics to the song! I have to spend my whole Saturday practicing the song, but I asked her to prepare a lyric sheet as my guide. Hahaha. This morning, his husband-to-be (and a good blogger friend of mine, too) requested I sing another song during the reception. They left the decision to me, and I am thinking of singing either "Amazed" by Lonestar, "It's Your Love" by Tim McGraw, or "A Thousand Years" by Cristina Perri.
Happies outweighs crappies this week. Thank you, Lord!