Days 155 - 156
04 - 05 March 2012
You guessed that right... still haven't fully got back on track, but I will tomorrow, now that flu and Bloody Mary have left.
Last Sunday, I met with the love of my life - Mr. Pipoy. We haven't seen each other for more than a month (but we talk to each other everyday), so when he asked me out, I quickly said yes! :)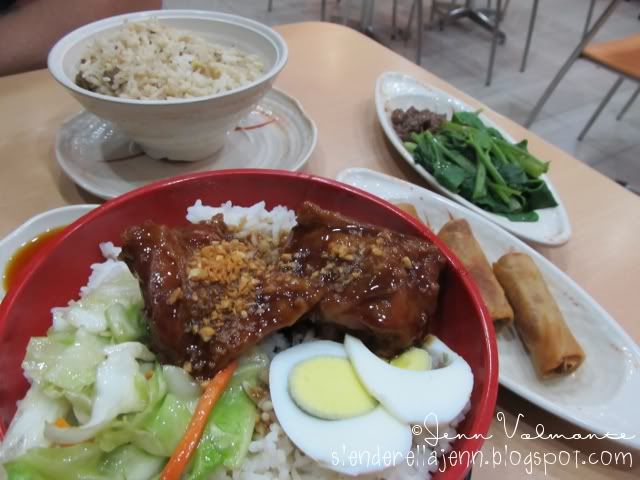 We met at a mall in Ortigas and from there we traveled somewhere out of town. Halfway though, we stopped by Chowking to eat a rather late dinner, and I took it as a chance to taste their newest offering. He may not comment on my posts, but he does read my blog, and knowing vegetables has to be a part of my meals, he asked if I would like a serving of Steamed Kangkong, to which I said yes.
I wasn't able to eat all my food (the bowl had a lot of rice), and for some reason I felt guilty leaving the bowl half empty, but Mr. Pipoy I shouldn't...
We reached our destination nearly half an hour after we left Chowking, but a little past 11pm, he said he was hungry. There were three food places near where were were, and asked me my choice of food among the three food places. When he mentioned 7-11, I quickly answered I wanted a siopao (steamed bun with filling). He got a little alarmed as my choice of filling was pork, so I just asked him to get me either get me the chicken or tuna - whatever was on the shelf I could eat. When he got back, he got me the pork filling because there were no chicken or tuna available. I am such a loved and pampered (and somewhat spoiled) girlfriend... and aside from my choice of snack, he also bought me a bottle of Vitamilk (Soya based drink) because he just discovered it to be a good drink and would like me to taste it, too. I don't normally eat midnight snacks, but this was an exception - any moment I could spend with him, I'd grab with both my hands.
I got a little surprise the next morning when he woke me up and gave me a cup of coffee he fixed for me. I remember we talked about me cooking for him as he wanted to taste my cooking, yet he was the first one to "cook" for me. It may just be coffee - instant kind at that - but this was the best cup of coffee I had, really... and in a way I could say I had my (half of) breakfast in bed. :)
We exchanged stories in between sips of coffee while we watch "Mr. Holland's Opus." The movie's last scene was very touchy, and when I looked at him he was already teary eyed. I have heard him cry (when we had arguments), but this was the first time I saw him like that... and I loved the moment.
We left the vacation house mid morning... but we passed by Jollibee to have a proper breakfast.
The fast food chain had free WiFi, so he was able to show me this teaser for "Despicable Me 2," which made us burst into laughter while eating.
Checking all the food pictures made me appreciate I have him in my life. Not only because he was the one who bought all the food - but mainly because he was so willing to eat my leftover (with the exception of the rice bowl), just so I won't "force" myself to eat all of my food. I know each bite of food means calories, but just so I won't go over, he was willing to eat it for me. Such a sweet boyfriend, he is!
Another thing that made me happy was how proud he is of me. He's not ashamed to hold my hand, hug me, kiss me, and telling me "I love you" even if we were in public. It just felt so good to be loved and appreciated.