Are you ready for another milk tea adventure? :)
I have heard of Gong Cha since last year, but back then I found their prices a bit expensive - maybe because there weren't that much milk tea places around and the few ones existing that time were much affordable. Now that there are more choices and prices of the drinks can go as much as 120 pesos per cup (depending on the size and the sinkers), Gong Cha suddenly became "affordable" for me.
One time maybe two weeks ago, I was able to take home my first cup of Gong Cha Wintermelon milk tea and let sister taste it. She found it really delicious, so for this week's milk tea adventure, I took her to Gong Cha in SM City North EDSA just so she can taste a full cup's worth of milk tea goodness.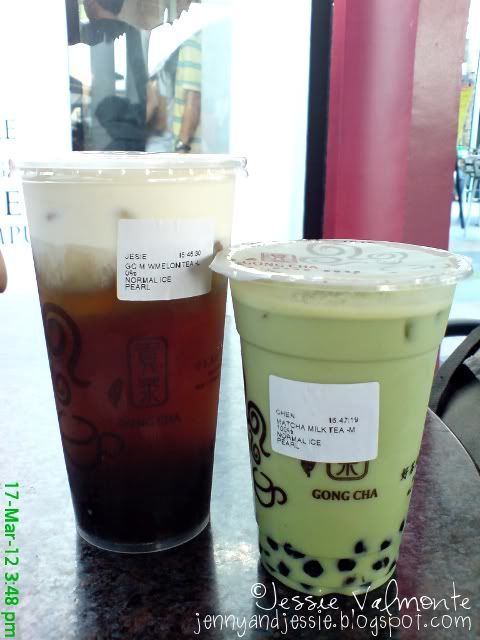 I have already tasted their
Milk Wintermelon Tea
, but I wasn't able to photograph it, so I went for it again. This flavor is part of their house special, and what makes their "house special" line a stand out above the rest of the milk tea I have tasted is that it has this special milk cream at the top with a sprinkle of green tea powder. I always start my drink by sipping a little of that milk cream before I mix the whole drink. As always, I go for the pearls as sinkers (even asked for additional scoop of tapioca pearls). Like most milk tea places, customers can choose the amount of sugar and ice they prefer for their drink. I told the cashier I'd go for 100% sugar, but when I was handed my drink, I noticed that the cup's label indicated 0% sugar. At first I feared it would be tasteless or slightly bitter, but to our surprise it still had a little sweetness to it - I actually felt the sweetness was okay. Looks like I will go for 0% sugar the next time I order this.
Since I went for sister's initial choice, she just went for their newest flavor -
Matcha Milk Tea
. She just went for the medium sized cup, and she told me it tasted like any other matcha milk tea she tasted, though this one's much creamier. Somehow she felt her drink wasn't worth it because she paid 95 pesos for the drink (80 pesos for the milk tea + 15 pesos for the tapioca pearls - sinkers aren't included in the drink), while I paid 115 pesos for my drink (95 pesos for the drink +15 pesos for the pearls). The pearls on my drink looked 2x the amount of the normal pearls, so she assumed pearls were already included in the drink... and it made her feel she should've just chosen another flavor from the house specialty line since the large cup would also cost her 95 pesos.
Anyway, we both enjoyed our drink... but there are so many more milk tea places to try: TeaTap, Saint's Alp, Serenitea, Moon Leaf, and Happy Lemon. Sister already tried Tea-Riffic, and gave me great reviews about it, I guess I will go ahead and try it next time.
I hope you won't get tired reading about milk tea here on my blog; I really hope to taste as much as I could while the milk tea business is still booming!