Hello all! Happy New Year!
Yeah I know, my greeting is quite late, it's just that I didn't have that much time to go online because I am doing quite a lot of things and that my sister and I share the Internet cable (the Connectify software on my netbook doesn't work with the new connection we had installed). Jessie and I will buy a new router tomorrow so we can be online at the same time.
First day of the year, it was just us three girls - mom, Jessie, and I - as brother was in Cagayan de Oro where he celebrated the New Year with his girlfriend. Mom wanted to stay at home, but during Media Noche, we had a some drinks and midnight snacks with close friends in the neighborhood, and when our neighbor Charm told they plan to go to the Quezon Memorial Circle on New Year's Day, it sparked the idea of us going out together and enjoy the day outside the comforts of our own homes. The story about our crazy day will be shared in the days to come.
Since it's Saturday today, time to share something about my nails! Honestly, I am starting to get crazy about nail polishes, but I am trying my best not to buy new bottles because I have about 20+ bottles to share here on the blog! :)
I decided to go a little simple for my New Year's Day nails. I did check different blogs as well as YouTube for New Year's Day nail art, but some were quite too difficult to make. Since I have a growing number of glitter nail polishes, I just thought of combining them together as if they're fireworks.
I used
Sassy Colors "Midnight"
for the base. When I first tried this idea, I used My Posh "Sapphire" as it was the darkest blue nail polish I own, but I still found it a little lighter for my taste. I hoped to find a midnight blue nail polish and thankfully, I was able to find one when I went to the mall. I used three coats of Midnight on my nails and allowed it to dry completely before moving on.
For the glitters, I used:
Bobbie - The Big Bang
Bobbie - Star Gazer
Caress - Christmas Polka
Colortrends - Gold Glitter
I first started with
Bobbie "Star Gazer"
because it had a whole lot of silver glitters. The way I did it, I applied most on the tips of my nails then dragging it down with the brush, allowing a little space under to show the blue nail polish. Then, I used
Bobbie "The Big Bang"
then
Caress "Christmas Polka."
Finally, I put on a dab of
Colortrends "Gold Glitter"
to add more color.
I do love how it turned out, but because I put in a lot of glitter polishes, drying time took forever. Hahahaha.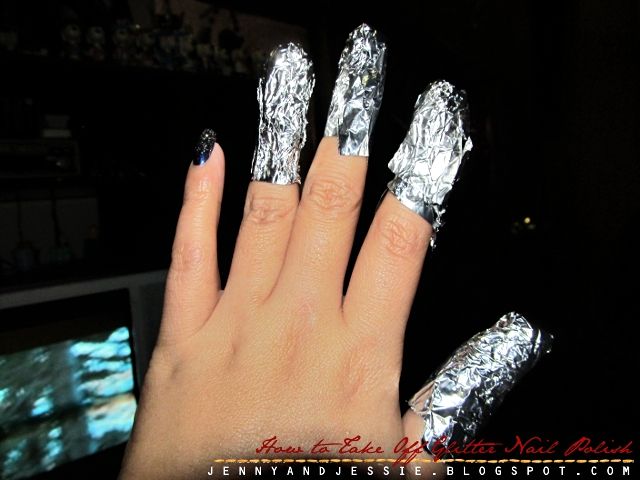 This wasn't the first time I used glitter nail polish, so I know how difficult it is to take it out. While watching a different nail art tutorial on YouTube, part of recommended videos at the right side panel was a video on how to take out glitter nail polishes, and I tried doing it when I decided to take out my New Year's Day mani two days ago.
What to do?
First, have some cotton balls of cotton rounds as well as aluminum foil (cut into 3-inch squares or bigger depending on how long your nails are) ready. If you're using cotton rounds, you can separate it from the middle (so that you will have two rounds) then cut each into half. If you're using cotton balls, you can go ahead and use it as is, but... I am a thrifty person (cotton balls aren't cheap if you really take it into consideration), so what I did was unroll the cotton ball and cut it into three.
Next, soak your cotton in some nail polish remover. It doesn't have to be drippy, but it has to be saturated. Place it on top of your nail and wrap it with aluminum foil. The foil will prevent the cotton to dry out quickly, so make sure you keep it as tight as possible. Keep it there for about 2 - 3 minutes, then, loosen up the foil, press your other thumb and pointer finger into the nail bed, rocking it side by side before taking out the foil. Most of the polish and glitter will be transferred to the cotton, but if there are a little glitter left, just use the cotton in the foil to clean up your nails.
Just so you know... use a mild nail polish remover as doing this might sting your skin. Don't use pure acetone as it might be too harsh, and once you're done taking out the glitter polish, wash your hands and apply lotion.
Doing this technique was really helpful to me as I didn't have to wildly wipe the cotton on to my nails, and it allowed me to save cotton balls, too (as one cotton ball was able to clean three fingers, whereas I had to use one ball per nail if I do it the old-fashioned way). If you want to save more, try to wrap and unwrap your fingers gently, so you can use the foil on your other hand, too.