I am such a cologne person. I like that it allows me to smell good without having too much of an overpowering scent, and that I can splash or spritz on some cologne every now and then, which I can't do with perfumes. I don't have a favorite brand, but I do have a soft spot for fruity scents.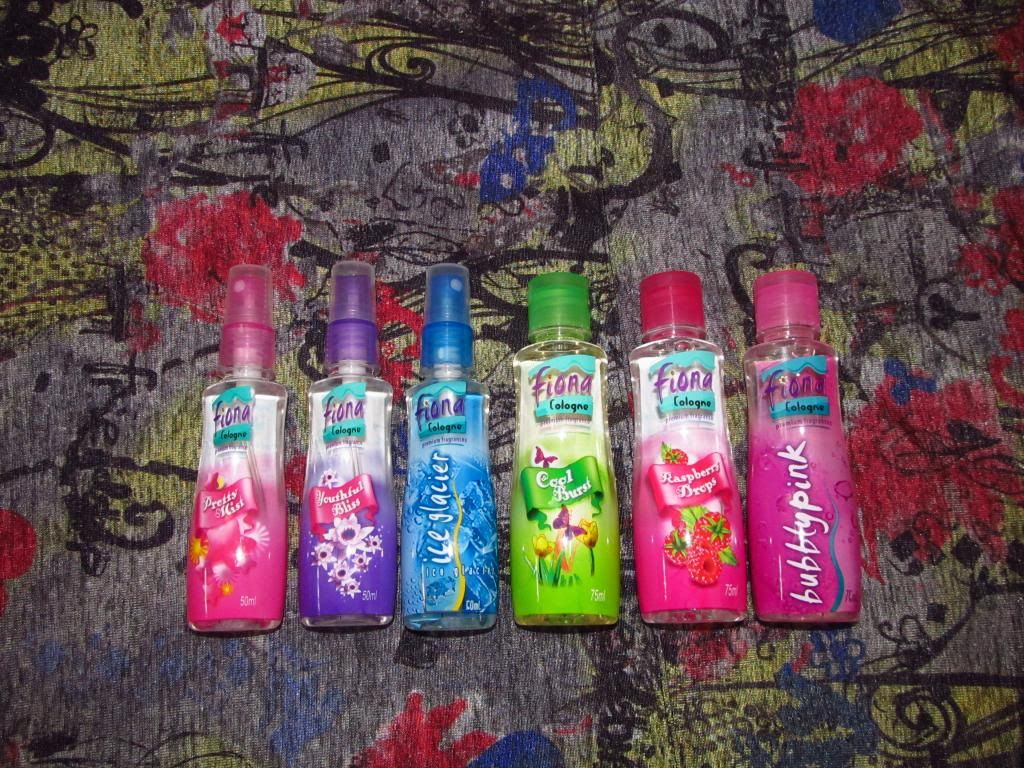 It was in 2009 when I first discovered Fiona Cologne. That time, I had to attend a meeting, but because I fear I might be late, I decided to run to get there in time. Thankfully, the meeting hasn't started yet, but the hot, humid weather made me a bit uncomfortable at how I smell like. I was a little shy to ask any of my friends if they have cologne or perfume, so I just went out to check the nearby pharmacy. I just needed something to make me smell good (not that I smell so bad, okay?), so I bought the Fiona Cologne "Raspberry Drops" in 25ml, which was only 13 pesos that time. For such a small price, I gained my confidence back.
I have had such raves about that small cologne. It did smell like raspberries and the scent wasn't so overpowering. I tried to look for the bigger bottles (if they have any), but the supermarket where we always do our grocery shopping doesn't carry the brand, so after I emptied that itty bitty bottle, it's either I take a trip to the pharmacy where I first bought it, or I'd just use a different one.
Last Saturday, I received an invitation to a special movie screening of Les Miserables, and in the event, Skintec also re-introduced Fiona Cologne, along with the launch of their newest product (which I will talk about next time).
Currently, there are seven scents:
>
Cool Burst
- A fruity sweet scent that captivates, with cucumber, melon, and musk.
>
Raspberry Drops
- Wonderfully sweet, fruity blend of raspberry, white flowers, and white musk
>
Bubbly Pink
- A bubbly fruity-floral burst of cassia and peach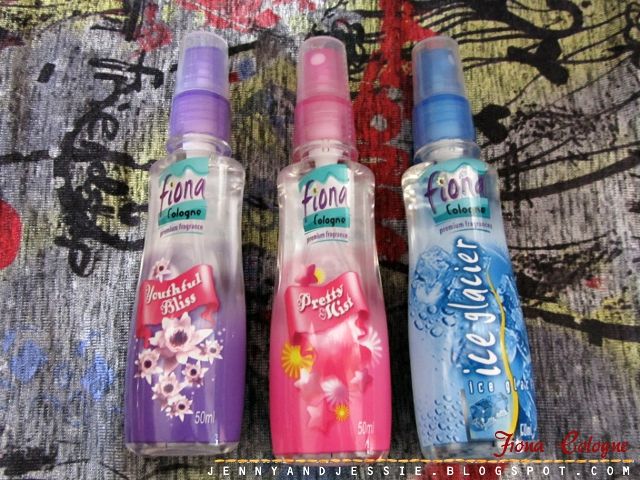 >
Youthful Bliss
- A nostalgic fragrance that's fruity with freesia, jasmine, and sandalwood
>
Pretty Mist
- Leaves skin lightly fragrant with the pretty and pure scent of flowers and strawberry
>
Ice Glacier
- A sensational mix of nectarine, green notes, and lavender
>
Snow Breeze
- A cool refreshing splash to revitalize your senses (not pictured)
Among the six scents I have tried, my favorites (aside from the obvious Raspberry Drops) are Bubbly Pink and Youthful Bliss. Actually, at first, I didn't like the smell of Youthful Bliss, but as I smell my wrist to check if the scent was still there, I started liking it. "Fiona" might be a girl's name, but the Ice Glacier scent can also be used by boys, guys, and men. :) I wonder if Snow Breeze also has that masculine scent.
Fiona Cologne uses top quality fragrance oils (the same kind used by worldwide brands). It takes pride that each of the variants last up to six to eight hours, making it one of the longest lasting fragrances in the Philippine cologne market. It is safe to use on babies and little girls, and is available in most supermarkets, sari-sari stores, and pharmacies.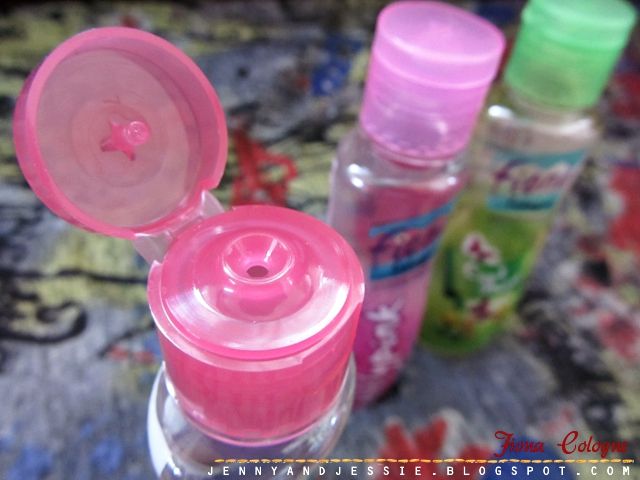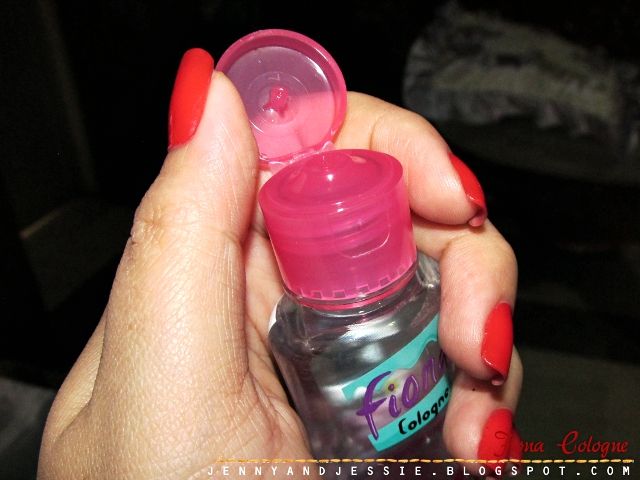 Fliptop bottles
carry different sizes - 25ml (15 pesos), 50ml (25 pesos), 75ml (35 pesos), 100ml (39 pesos). The 100ml bottle may be the best buy given the price range, but I suggest you also buy a bottle of the 25ml (aside from the100ml) so you can put it in your little kikay kit or purse - truly a space saver. I also like that this kind of bottle allows users to control the amount of cologne they want to use, but pouring the cologne on to the palms before applying it in different parts of the body can be a little difficult (especially on the back). Also, there will also be instances that one would pour a lot on the palms and that may cause a little problem, because of course, it would mean wasting precious liquid.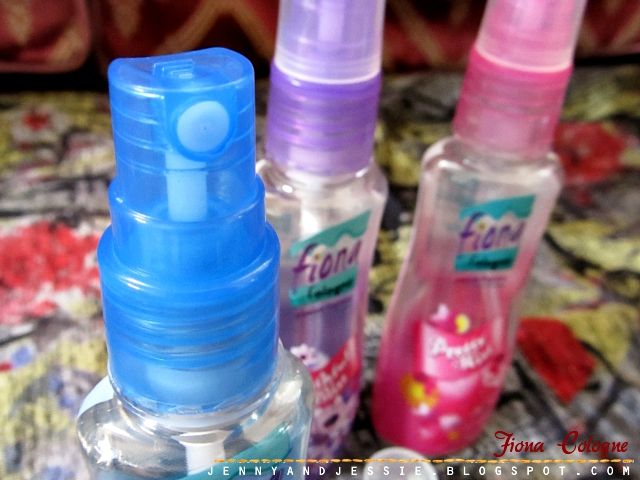 The
spray bottle
on the other hand is only available in 50ml (32.25 pesos). Personally, I prefer the spray bottle more than the fliptop because I can just spray and spray when I want to (no need to worry if the palms are quite dusty already). The 50ml bottle is just the right size for me, but I hope there will be 25ml spray bottle available, so it can fit my little kikay kit.
Aside from its awesome scents, I also love the shape of the bottles. It's slimmer at the upper half part of it, making it easier to grip when using the product.
Ease of use, affordability, and long lasting scents. I just love this product!
To know more about Fiona Cologne, please check their Facebook pages -
facebook.com/FionaCologne
(Twitter - @FionaCologne) and
facebook.com/skintecphilippines
(Twitter - @SkintecSocial).
PS - I just realized... it's nearly 4 years since I first used Fiona Cologne and there was only 2 pesos price increase? Wow!