I wasn't able to travel to La Union for Undas (All Saints/Souls Day) last year because it was brother who traveled there in behalf of the whole family to save some money. This year, I was thankful and happy that sister and I was able to travel, though I didn't stay the whole week like my sister did; I was there last 26 October and went back to Manila the next day, and traveled back to La Union night time of 31 October, in time for Undas on 01 November.
Typically, it would be difficult for one to travel to the provinces during this time of the year, but because there were quite a lot of buses traveling up north, I was able to take a bus a few minutes upon arriving at the bus terminal. The worst thing I had to endure was the traffic, but once the bus reached the North Luzon Expressway, it was easy breezy for me.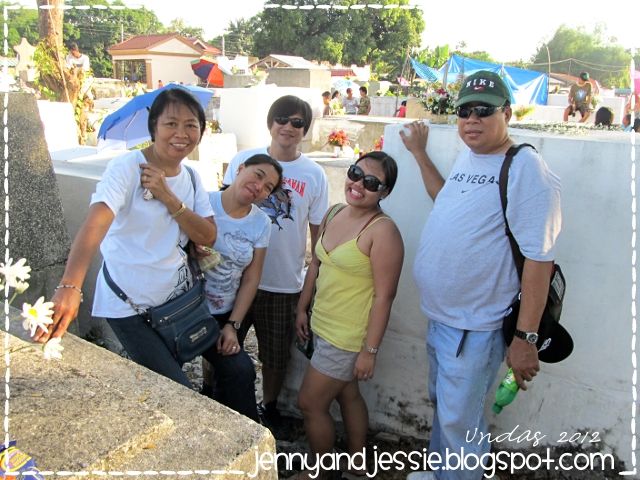 I arrived in La Union nearly 2am of 01 November. In the past years, we always go to the cemeteries in morning, but for this year, we decided to go after lunch, giving me more time to rest and catch up on sleep. We first visited the public cemetery in the town where we live. We lighted candles on grandpa and grandma's graves, as well as on Aunt Zor and Uncle Donato's graves. When we got there, cousins Anna and Karen (Aunt Zor's daughters) were there with their families, giving us a chance to catch up on the lost time and share stories.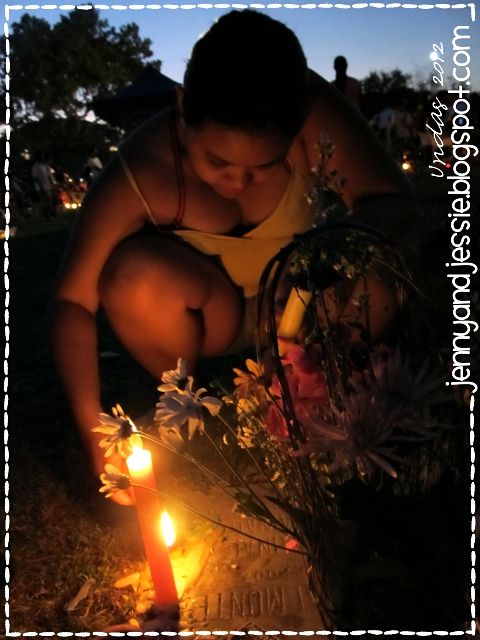 By mid afternoon, we all traveled to Forest Lake en Cielo Cemetery (located next town) where dad was buried. There, we met other cousins and relatives who were visiting graves of their relatives. We all knew we would stay there until night time, so we just chilled, enjoyed the time together.
Just so you know, Undas is considered to be every family's time to reunite. Many families do take the time out to visit the graves of their dead loved ones, so there were a lot of people all over the cemetery.
Of course, would we forget to take pictures? We didn't take much, but these few pictures we took enough to immortalize the moment. I was most happy seeing (and carrying) baby Mhiel Jayne - cousin Mhai's daughter, whom I got to see the first time. Well, I didn't get to carry her that long as she must've realized that I am a "stranger" and cried after.
One magic moment that night was seeing the Chinese lantern decorated the skies. We didn't buy any of the lanterns because we felt the air would dictate whether the lanterns will fly or not, but seeing the people at the cemetery successfully flying their lanterns, we sort of regretted not buying one. Most of the lanterns were red, but they looked orange in the sky, maybe because of the fire. There were a few yellow and white lanterns, but the red ones looked the most beautiful.
By 7pm, we all traveled back home as it wouldn't be good for the baby to be out in open come night time, when the wind is much colder. We snacked a few times while at the cemetery, so no dinner for sister and I.
Even if brother and mom weren't with us, sister and I felt this was the best Undas we experienced. Now we know, the best time to visit the cemetery is late in the afternoon.