Happy new start of the week, everyone!
It's nearly the end of November and yet, I still haven't felt that cold Christmas wind, though there's already a hint of chill (very subtle, I say) early morning. Normally, the last and first quarters are my skin's most hated time of the year because my skin tends to dry when it's cold. Not to the extend of having snake skin, but yeah, I can use my nails to write on my skin. I really hate that.
One time, my sister and I went inside Tony Moly (SM Fairview) to check their products. We have already purchased some items at Etude House and we were quite pleased; we were hoping Tony Moly's product will also give us that same sense of satisfaction.
Like the other Korean beauty stores, each product has a tester. I didn't try any of the cosmetics as I still have my own cosmetics, but one of the things I tried during our initial visit was their bottles of body lotion. My test at that time.. if my skin stay supple for hours and the scent didn't diminish that quickly, I'd purchase it. That time I tested three products: the one with the citrus-y scent, the one with the mint scent, and the one with the mango scent. All passed my test, which made me go back a few weeks after (well, it's not everyday that I am out).
The citrus one wasn't available, and the mint one didn't satisfy my sister - scent wise. The very friendly saleslady suggested I try their mango lotion, which was the one I was eyeing of buying, but when I put some on my hand and rubbed it on my sister's skin for her approval, she found the scent too strong and too sweet. She felt it might not smell so good when I perspire, so I asked the saleslady if they still have something for me to choose. She suggested this Pure Musk Body Lotion, and I ended up buying it.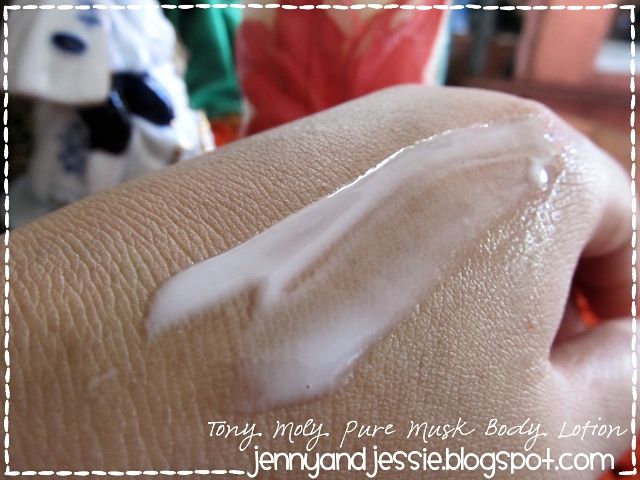 I loved that it has a nozzle to dispose the lotion, because bottles with caps tend to squeeze or pour a lot of lotion (in my experience, especially when I need to tap/shake it just to get some lotion). The scent is quite sweet - not in the fruity sense, more of a delicate flower.
The first months of using this, it had a thick consistency, but over time, it just went a little runny. One thing I loved the most about this lotion was the feel of my skin when I use it. It's just so soft, that even if I just finished a 30-minute workout and perspired a lot, I'd still feel that softness. One downside, though... when the lotion became a little runny, it felt more difficult to use, I mean, one of the things I hate about lotion is when my skin feels it's sweating right after applying lotion (which is why I don't use Jergen's), and I had the same experience with this lotion.
This retails for p298. For a big bottle of lotion, it was definitely worth the price. I just hope they can come up with a smaller bottle so it wouldn't take months for me to empty it. I'd rather buy small bottles of lotion with very thick consistency rather than having a big bottle and use runny lotion over time.
Would I repurchase? Yes, but now that I've emptied this bottle, I might go for the other scents, just to have something different.