I wasn't able to visit dad's grave in time for All Saints Day last year, so when my sister Jenny expressed that she will travel to La Union, I was really hoping and praying that I could travel with her. Days before her travel date, I was so relieved that my schedule at work would allow me to travel, but just a day before, my schedule has been changed, so I wasn't able to travel with my sister. I still traveled on the same day, but I left around 3:30pm and arrived in La Union nearly 11pm.
The next day - 26 October - Sister and I set out some activities to do to maximize this one full day that I have in La Union for I will travel back to Manila the next day. I hoped for us to visit Luna Church, but I was so tired from trip and wanted to sleep longer than usual. I got up quite late, so we couldn't go to the church anymore.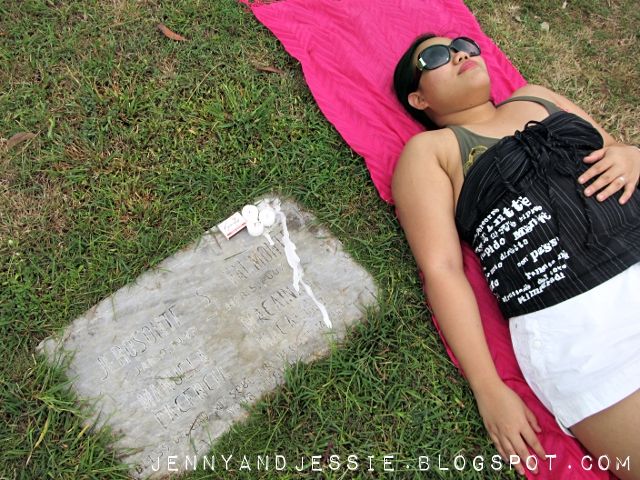 First place we visited was the
Forest Lake en Cielo Cemetery
, where our father was laid to rest. It was still few days before All Saints Day (01 November), so there weren't any other people visiting their dead loved ones; we just want to start our day talking to our dad.
From there, we went to the city of San Fernando to eat lunch at
Halo Halo de Iloko Balay
. Sister has been raving about this place and when I tasted their food, I became an instant fan. The Sisig Iloko I ordered wasn't the typical Sisig I got to eat in the past; it was (in a way) a cross between Sisig and Dinakdakan... pure bliss!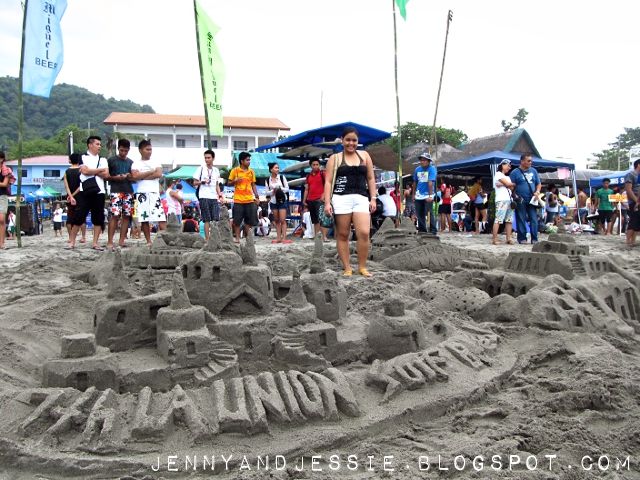 Time flew fast that day, because when we finished eating it was already 2pm. We quickly made our way to Urbiztondo Beach to watch the festivities of the 7th La Union Surfing Break, which opened that day. The sand castles were already built the time we got there. Such a sad thing that we didn't see how each was built, but then, just being there was already something to be thankful about.
All sister and I could do was to sit and watch as the surfers enjoy the waves. Walking along the shore, we saw this surfboard and thought we'd pose for pictures.
I didn't bring a camera, so it was sister who took pictures most of the time. She did enjoy zooming her camera to capture the surfing actions, but for about sometime, we just spent time sitting along the shore and watching them. This was our 2nd time to watch the Surf Break together (her 4th time to watch it).
We planned to eat dinner at The Hangout Philippines, but the idea of traveling back to the city made me second guess it. In my mind, if we go there, I might not have more reasons to come back for All Saints Day, so I just told my sister we should just go back home instead.
I left La Union the next day at 10:30am. It was tiring to travel to La Union after a shift at work then spend the day roaming around, travel again and head straight to work, but it was fine, I guess. Being there was enough to make me happy.