When my name was picked to win a 3 days / 2 nights accommodation at The Tides Boracay, I had mixed emotions. I was ecstatic to win, but at the same time worried and sad that I might not be able to use it. After receiving the gift voucher, Jenn and I were talking about how to use it, and she told me mom and I should use it because she just traveled to Boracay the month before and she wanted us to see one of the most beautiful places she has seen. Deep inside my sister's mind, she was trying to attract winning a Boracay accommodation, but even if she didn't win in the raffle, the planets aligned for the last minute - she was able to learn the password of the WiFi signal from the next building, was able to upload an image on her Instagram page and she won one of the last prizes of the night - a 3 days / 2 nights accommodation at Alta Vista de Boracay. Yay!
Her gift voucher will expire by the end of the year, mine will expire by the end of September, so we had to plan when to use it. Thankful for the long weekend last August, we were able to book everything. The typhoon that time caused us so many worries, but whatever's coming our way, we were excited to travel to Boracay.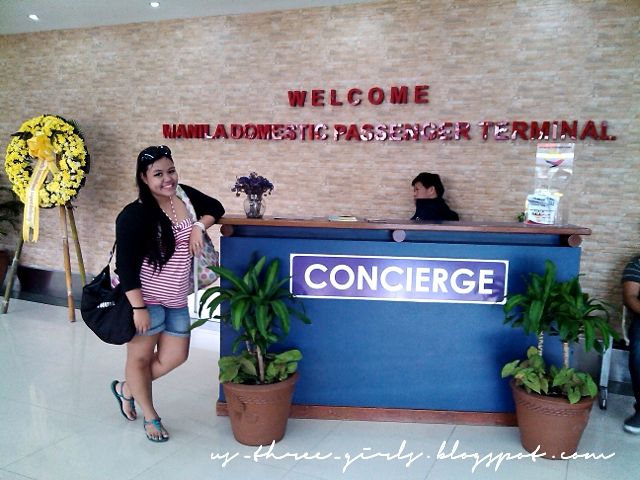 Sister booked our flight via Tiger Airways, which offered the cheapest fare. The flight was bound for Kalibo, because flights going to Caticlan were three to four times more expensive compared to fares going to Kalibo. It meant traveling two more hours by land 'til we reach Caticlan, but it was okay to go that route and save thousands, which we can use to pay for other things while in Boracay.
Our flight was scheduled at 2:30 pm. We left the house at 8am, took an early lunch at the Foodcourt of SM Makati and by 12nn we were already at the NAIA Terminal 4.
When we queued to get our boarding passes, we were told that our flight will be delayed and instead of flying at 2:30pm, we would leave Manila at 7:30pm. The airline staff said they would waive all fees for rebooking and would refund in full should we decide to, but this was the only weekend we could use, and we decided to go for it still.
It was a painful waiting game, but we were grateful to have some entertainment. Jenn was the most flexible of the three of us, and she has "begged" for us to keep our cool and just wait for our flight to be called. By 5pm, there was a big commotion when the airlines announced that the flight going to Cebu will be further delayed, but it was quite a funny scene seeing people curse and go violent when they only had to wait 30 minutes more. Really, was it worth it to lose your cool when 30 minutes would just breeze by? I understood their situation, but then again, it was just 30 minutes! The plane was already at the tarmac, the staff just had to tidy it up and do a routine check.
At the same time, we were given free dinner - a piece of Jollibee Chickenjoy (with ketchup and not gravy) with rice and a bottle of water, which we weren't able to photograph because there was a buzz that our flight would be further delayed as well and that we would leave at 9:30pm. That made swallowing food more difficult to do. Jenn started to cry secretly because she was blaming herself for this problem she caused mom and I - that if she went for Cebu Pacific, we would have been in Boracay already. Of course, all the waterworks were nonsense and we didn't blame her at all. We understood that NAIA Terminal 4 was closed for a day a few days ago and that all flights were too much for the airlines to catch up on.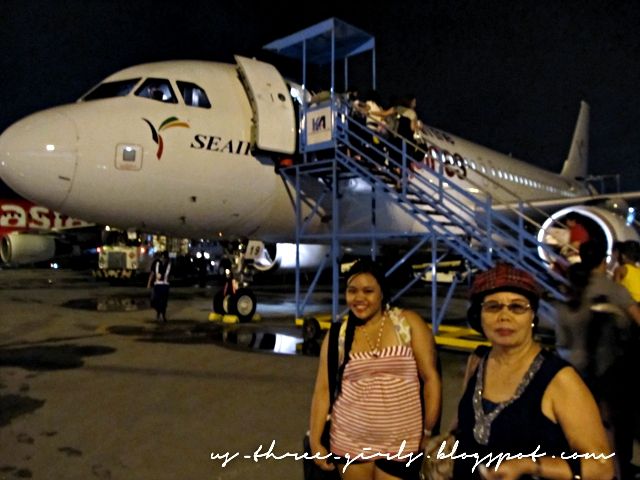 Thankfully, we were able to fly at 7:30pm. It was my very first time to travel by plane so I got the window seat, which of course didn't mean that much because I couldn't see anything but a sea of darkness. The flight staff of Tiger Airways were apologetic, and they were very friendly. Jenn told me in the many times she traveled by plane, this was the first time she experienced a very personal (yet professional) care from the FAs.
Most of the people in the flight took the time to sleep, but sister was a little scared by how fast the plane was traveling. It felt okay with me, but once the plane touched ground, we did feel how fast the plane really was.
We reached Kalibo in under an hour. Halfway through the flight, the FAs sold us tickets for a service transfer from Kalibo to our choice of resort, which something we availed because it took away all the worries. The bus ride from Kalibo to Caticlan was more than 2 hours, and we still had to take a short boat ride and another van ride going to the resort. It was physically draining.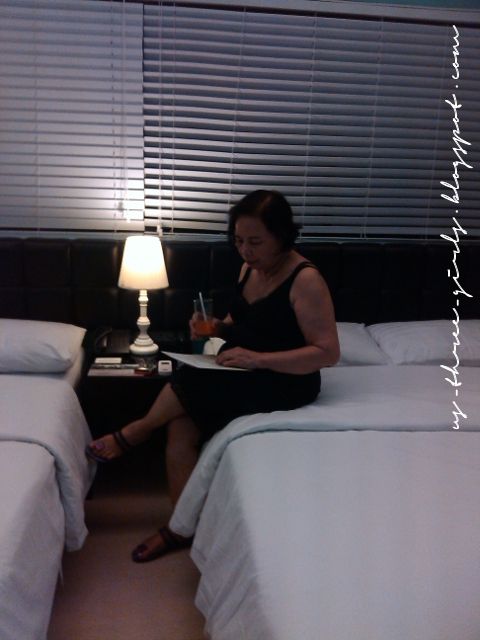 Sister and I planned for mom to stay with Jenn on night one, and she would stay with me on night two, as we were booked in separate resorts. However, mom was already tired that she didn't want to take another van ride going to Alta Vista de Boracay. After Jenn settled our reservation at The Tides Boracay (she was the one who processed all documents so the reservation had her name), she quickly ran a few meters to take the shuttle service going to her resort.
One whole day of worries, but in the end we were grateful - for the safe flight, for Jenn to take the last shuttle ride going to Alta Vista. It was also awesome that our room had two big beds... one for mom and I.
* Jesz *