It is true that you realize the value of money when you start working hard to earn it. I know that I am a good child to my parents when I was still studying, but I do admit there were times that I would pull a "Puss in Boots" stare to my parents whenever I have some requests to them. When I started working - waking up very early, stressing myself the entire day, I became very appreciative of every centavo I receive whenever my payslip comes.
I try to save as much as I can so I have something to spend during the rainy days, but I do love to shop and dine out, as my way of rewarding myself for working very hard. Sometimes, I would spend senselessly, sometimes I would check group buying sites, but as much as I know buying deals on group buying sites saves me money, there are times that I couldn't avail of the deals because the terms won't jive with my schedule or simply, I don't have money that time.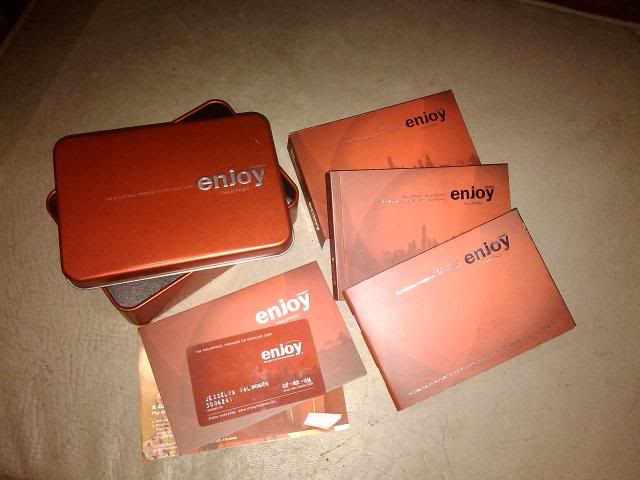 Imagine my surprise when I received an invitation to the 2013 Mid-Year Party of Enjoy Philippines - the largest provider of discounts and coupons in the Philippines. Unlike group buying sites, Enjoy Philippines allow members to enjoy lots of perks - may it be discounts or freebies, without the time constraints. Each member is allowed to use their privilege anytime of the year. With over 250 brand partners around Metro Manila and some located in Cebu, Boracay, Cagayan de Oro, and Davao, and with savings and freebies worth at least 350,000 pesos... the annual membership fee of 1,995 pesos is really worth it.
Inside the Enjoy Philippines kit are two booklets - one with the list of partnering establishments in Metro Manila, the other lists the partners located in Cebu, Davao, Cagayan de Oro and Davao. The booklets are divided into categories - dining, nightlife, shopping, travel, live & learn, and automotive. Also included in the kit is your own membership card - your passport to awesomeness. :)
The 2013 Enjoy Philippines Mid-Year Party took place at Rue Bourbon in Makati. I, together with my siblings and blogger friends, as well as members of Enjoy Philippines were treated to a night of food, drinks, and lots and lots prizes!
In the party, Enjoy Philippines launched a new booklet - containing more perks to more partnering establishments! The booklet acts as a guide, so members know what kind of perks they can get whenever they visit the establishments. Each partner also has a voucher to more perks, although this voucher can only be used once. Members have to present their card and the voucher if they want to avail it, or download the Enjoy Philippines app.
I won a Gift Certificate for a 3-days, 2-nights stay at The Tides in Boracay as part of their raffle prizes, while my sister Jenny won in one of their games. She also won a 3-days, 2-nights accommodation in Boracay... but at the Alta Vista de Boracay. We are planning to use it next month, never minding the distance between the resorts.
To know more about Enjoy Philippines, please call their hotline at (02) 478-8888 or visit their website -
www.enjoythebest.com.ph
.