Last set of nail polishes on my collection...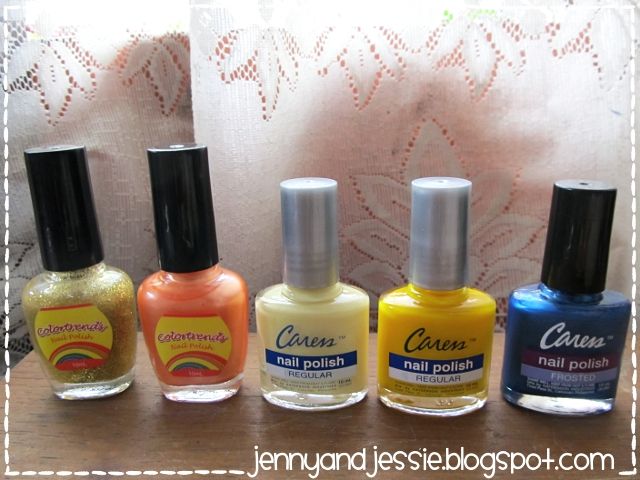 I remember Caress Nail Polish as one of the first ones I used during Christmastime when I was still in college. When I started developing my fondness for nail polish last year, I never really get to buy a bottle of Caress, and now I am asking myself why. When Jessie and I went to shop at Landmark (Makati) last November, it never crossed my mind to buy some Caress Nail Polishes. It was Jessie who actually told me she wanted to try yellow nail polish, and suggested we try the Neon Mango Tango by Caress. I told her to place whatever nail polish she wanted to try in our basket, but she only chose two – the yellow one and the Blue Hawaii. The Wintermelon shade I recently bought at SM Fairview; I was looking for Caress Cool Blue, but wasn't able to find one. I only have one yellow shade in my collection, so when I saw this, I decided to buy it. The two Colortrends Nail Polishes I bought at Mercury Drug branch in Makati last weekend. I went there to buy one more bottle of Careline Nail Polish (Frosted Beige, which I swatched yesterday), and while checking for different shades, I saw this bundle containing a small bottle of Bobbie cuticle remover and the two Colortrends Nail Polishes. It was only 49 pesos, so I bought it, afterall, I was planning to buy a top coat with gold glitters (because I already have the silver kind).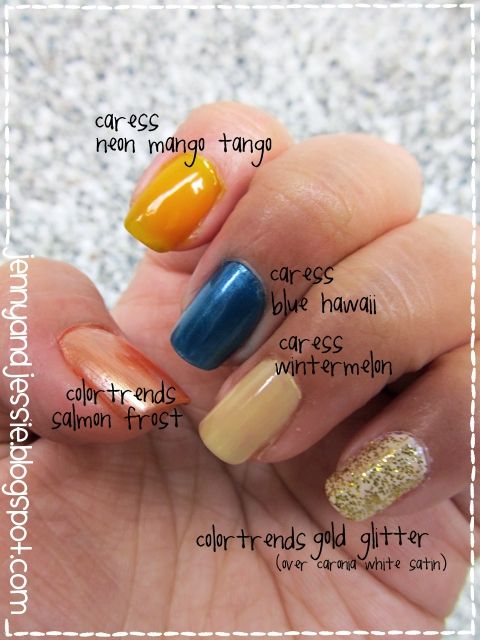 The five kinds of nail polishes on my nails – two coats each, no top coat. The Caress' Blue Hawaii reminded me of another nail polish I have on my collection, but among these five, my favorite would be the Wintermelon. I was happy I purchased it, as I was thinking of buying the Avocado shade before I saw Wintermelon.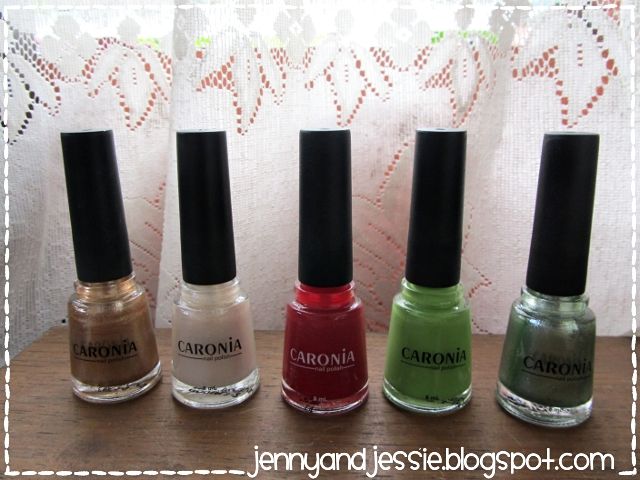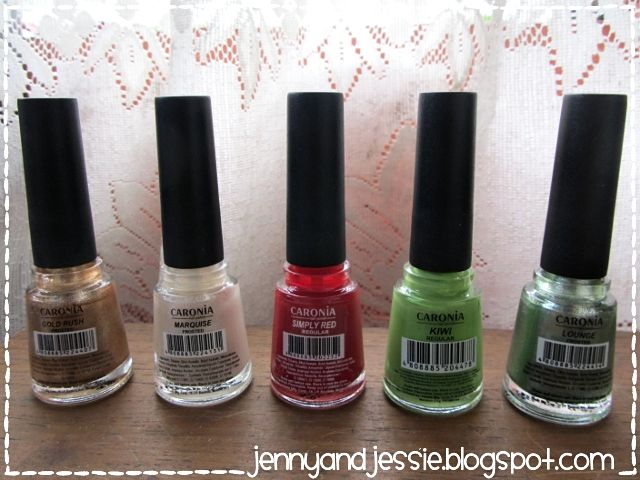 Yesterday, I swatched five Caronia Nail Polishes, and today, another batch. True, I am not totally over-the-edge happy with Caronia, but the supermarket just outside our neighborhood sells Caronia Nail Polishes (8ml) at only 27 pesos (regular variants) and 29 pesos (frosted variants), so I just found myself buying one after another.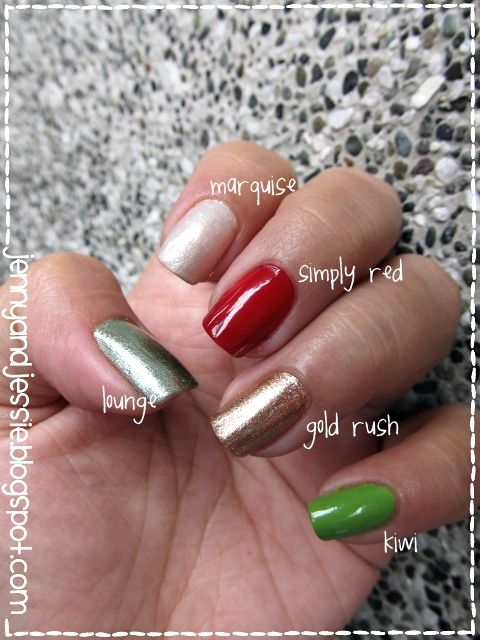 These five colors felt like Christmas because of the red, green, gold and the glittery effect. I think Lounge, Gold Rush, and Marquise belong to the same collection because of its fine powder glitters, but I am not sure. I think I saw another one of its kind (Trance) at SM Fairview and might buy it next time. Anyway, I used three coats each of the nail polishes, without any top coat. My favorite would be Gold Rush – it reminded me of Elianto Nail Polish that I never got to buy (because then I found it quite expensive back then, and now I don't see any Elianto stores). Formula wise, I loved Simply Red. So there... my complete nail polish collection. Right now, I have 53 bottles – including the top coats. I have 4 bottles of Korean-made nail polishes (it's supposed to be 5, but Jessie misplaced the gray colored Etude House nail polish before I even used it), and the rest were locally made. I do like buying locally made nail polishes because it feels like supporting the local industry, but obviously because it was more cheaper. Of course, that doesn't mean I won't purchase imported brands. In time, I will try them, too. Next week, will share some Christmas-themed nail arts I tried.