Happy Saturday!
I knew I have always liked nail polish, but I seldom used it while I was still in my teens because my nails are quite fragile. After college, I hoped to grow my nails but it would always break. Late 2010, I decided to grow my nails again and because it didn't break, that's when I started learning how to manicure my own nails.
I do buy bottles of nail polish time after time, but even if I already have different blogs, I never really took time to photograph my nails and share it (but there were few I shared, of course). This year, my love for nail polish upped a notch, and now I decided to devote Saturdays and Sundays in talking about nails and nail polish here on the blog.
For the next three weekend days, allow me to swatch all the nail polishes I own that I haven't shared yet. Of course, I wouldn't just share everything all at once; just a little sneak peek, swatching one color on one of my nails.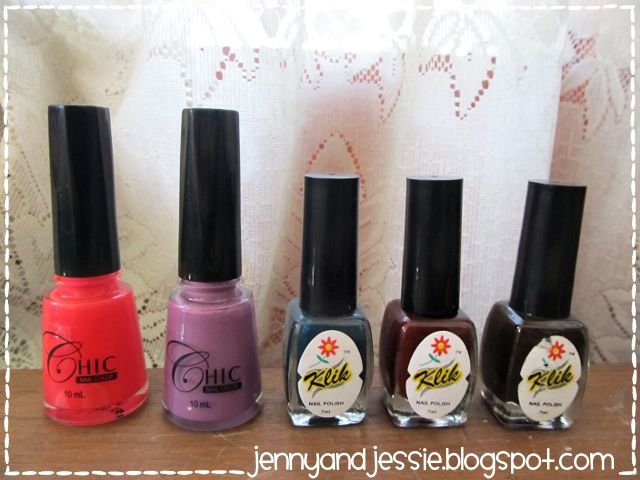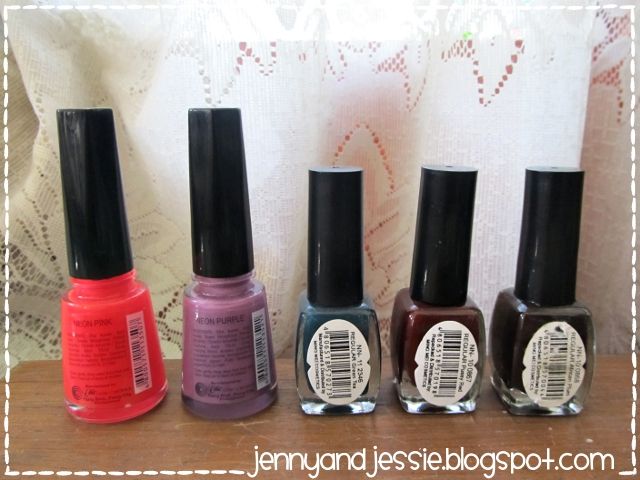 First group would be the
Chic
and
Klik
nail polishes. I grouped them together because their names sounded the same and it was quite coincidental that I have 2 bottles of Chic and 3 bottles of Klik. The Chic nail polishes (Neon Pink and Neon Purple) I bought at SM City Fairview as part of my Bobbie+Chic haul, while the bottles of Klik nail polishes I bought at different locations - African Plum, I bought at a market in La Union, Green Tea, I bought at a market in Tungko, and the Pussy Red, I bought at the Landmark Makati.
Currently, the top coat I use is Chic, but because it's colorless, I would say these two neon colored polishes I bought would be my "first" Chic nail polishes. The booth where I bought this didn't have that much Chic nail polishes (most were Bobbie), and since they're both neon, might as well try them. Price is somewhere between 35 and 37 pesos, I already forgot. :) The Klik ones are much cheaper, the African Plum I bought at 15 pesos while the other two are 16 pesos.
These are all the five nail polishes on each of my nails in three thin coats. Favorite in the bunch (color wise) would be the African Plum, which was quite ironic because among the five polishes, it was the most difficult to apply.
Next in the collection would the
OMG (Oh My Golly) Crystal Sand
nail polish. These I bought at the Landmark (Makati) for about 18.75 each. I have been reading a lot of raves from different Filipino bloggers about OMG nail polishes, which spiked my interest about it, but the problem was I never really get to see this brand in nearby stores. While in Makati last weekend, I just asked Jessie if we could check out the beauty section of the Landmark because I want to toss out the blusher and lipstick I am using by the end of the year so that I have new ones to use for the entire 2013 (I am not really heavy on the make up so certain products takes the entire year to use). While checking different stalls by different manufacturers, I came across the nail polish section, and I swear it was like entering a candy store. So many nail polishes - both local and international brands. Anyway, the newest collection from OMG is the Crystal Sand line, and seeing that it's very affordable, I went to buy 5 bottles. Actually, there were 6 shades available, but since 2 were green ones, I just went to get 5. Unfortunately, the black one called Hematite wasn't available, but hopefully the next time I go there it will be available.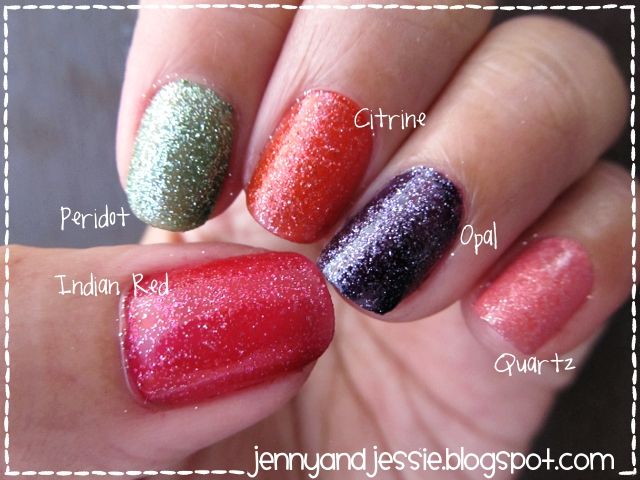 Two coats each of the nail polishes on my fingers. Color wise, I love the Quartz, but given the "crystal sand" quality, I love the Opal and Citrine ones. I love how this collection reminds me of Christmas because of the sand. I love the grainy texture - rubbing on my nails felt like rubbing sandpaper - and the colors, too! I am now starting to believe the raves over OMG nail polishes. Next time, I will be going for the regular nail polishes. :)
Tomorrow, two more sets of nail polishes, some new ones and lotsa old ones. :) Enjoy the weekend!