Hello, hello! Part 2 of the Nail Polish collection Sneak Peek...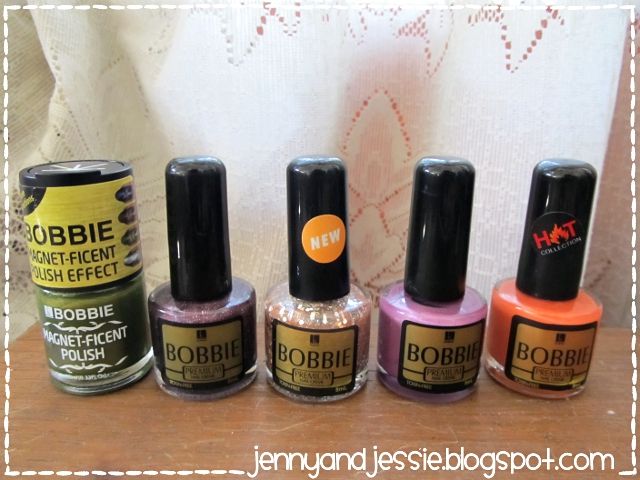 First set would be the Bobbie Nail Creme. These five bottles I purchased nearly a month ago at SM Fairview. I actually just wanted to look for Bobbie Cuticle Oil (because I admit my cuticles are quite dry), but fronting the supermarket were different booths devoted to beauty products, and Bobbie had their own booth. The saleslady told me that for every p250 spent on Bobbie/Chic products, I could get one nail polish bottle free or I could have a nail art. At that time I just cut all my nails shorts (which is why it's just recent that I swatched these nail polishes), so I opted to get the free nail polish. Aside from these 5 bottles, I also bought the cuticle oil and the two bottles of Chic nail polishes, which I shared yesterday.
There were a lot of Magnet-ficient kind of nail polishes, but I went for this one with the star (asterisk) design, because it looked unique. The Shimmer, Salmon, and Star Glaze I bought just because... while the Purple Dazzle was the free nail polish.
When I got home I realized I already have a lot of purplish nail polishes. The day after, I checked different Filipino-based nail polish blogs and listed different shades of Bobbie nail polishes. I am now on the hunt for the complete holo-prism collection, because I only got to buy/use Weng Weng sometime in 2011 and is the very first bottle I finished. Too bad I don't blog about nail polishes then, so I need to buy a new bottle and maybe complete the entire collection.
On to the swatches... The magnet-ficient one was quite a disaster, this was the third time I tried the magnet thingy and I still couldn't get the design right and unfortunately, the cap hit my nail. I wanted to re-do the whole nail, but I decided not to, because like I said, it was my third time to try it and I am afraid that if I take this one, I might finish the entire bottle even before I complete all ten of my fingers. :)
Shimmer and Purple Dazzle seemed to be somewhat related; when I swatched these two colors I sort of regretted getting the Purple Dazzle as my free bottle (I should have gotten the green or the red one), but it was a good thing that Purple Dazzle is quite deeper in shade and it had glitters. The Salmon one is my very first orange nail polish (the Runts Scented one isn't counted as I don't own it), and I think I should get more orange nail polishes, just to balance out the colors in my collection. The Star Gazer (sorry, I put in Star "Glaze" on my picture, it's actually "Gazer") is a mix of hex and typical looking glitters on peachy sheer base, which I swatched over Kohl, another Bobbie nail polish I haven't shared here on the blog yet. I loved the combination of Star Gazer and Kohl, it was like a night sky studded with stars. :)
Here's a mix of old and new nail polishes. Obviously, the first three are the old ones in my collection. The 24K Black Pearl is actually the oldest bottle in my collection, which I bought December 2010 (wow that's 2 years ago). I forgot when I bought the My Posh and Sassy Colors ones, but both I love. 24k was priced 26 pesos, while My Posh and Sassy Colors were around 16-17 pesos each.
The new ones I bought at a market in Tungko. I never really planned to buy nail polishes that time, I just went with my brother to the market, and while roaming around, I saw a stall selling manicure stuff. I have this little fear over buying not-so-known nail polishes because of an episode on TV I watched (
HERE
and
HERE
). For sure, these cheap-o nail polishes are sold in public markets, but when I checked the bottles, I noticed that the Rain nail polish is by Chic, and Sweet Cherry is by Kateenson Industries, which also distributes Caress nail polish, a well known brand here in the Philippines, so my doubts are eased. Well, as far as I know, as long as the nail polish has its proper label and it has the name of the distributor plus the address, then it's safe to buy because should anything happen to you because of the product, you know the company to contact.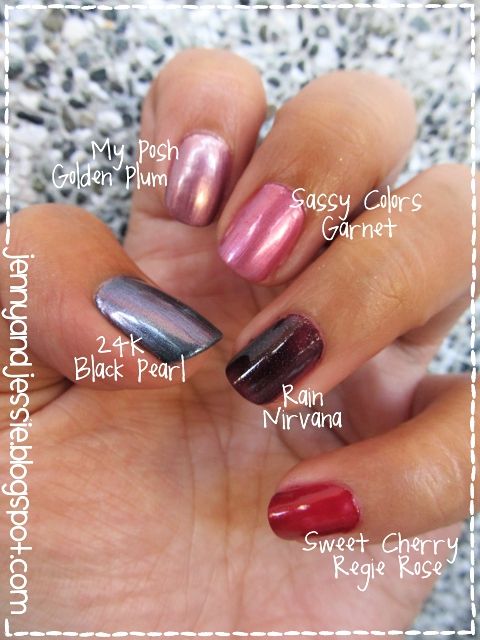 On to the swatches...
Well, the three old polishes I own I really like; the My Posh one is the thickest one in consistency (it thicken over time, but it started with a very liquidy formula). As for the new ones, I found Rain's Nirvana to be difficult to apply - as you can see, the colors aren't uniform; there are spots with dark purple and some lighter ones. Another purple colored nail polish I own, which is closely related to Bobbie Purple Dazzle, but this one's darker than the Bobbie one. Regie Rose, I quite liked, but I have a little problem with applying it, too. I just hope by the time I finally use these two new ones on all twenty of my nails (I also paint my toe nails with the same color, which is why I change nail polish once a week), I won't be having difficulty with the application.
Last two sets of nail polishes in my collection next Saturday, then I will try share two Christmas-related nail art. :)