I was supposed to post this last weekend, but our Internet connection has experiencing technical difficulties, which hindered us to blog for nearly two weeks. We already made necessary actions and we are now looking forward to having our Internet restored in the days to come. For now, I have no other choice but to go to an Internet Cafe to post this. Next week, I will be sharing my attempts at Christmas-related nail art (but don't expect too much as I am not really talented doing nail art), so let me finish with the swatches this weekend.
First up,
Caronia Nail Polishes
. Bliss and Sapphire were bought by Jesselyn early 2011, when I started painting my nails. These she bought without particular reasons, she just said she just saw these and because blue is her favorite color, she bought it. I did like that the formula of these were still okay, but of course both are quite thick now. White Rose I bought one time when I was looking for white nail polish. I guess I was a little color blind that time because I didn't realize it was the frosted kind until I got home. The White Satin I bought late October this year for a Halloween Nail Art I hoped to do, but wasn't able to, and the Red Pearl I bought just recently for a Christmas Nail Art.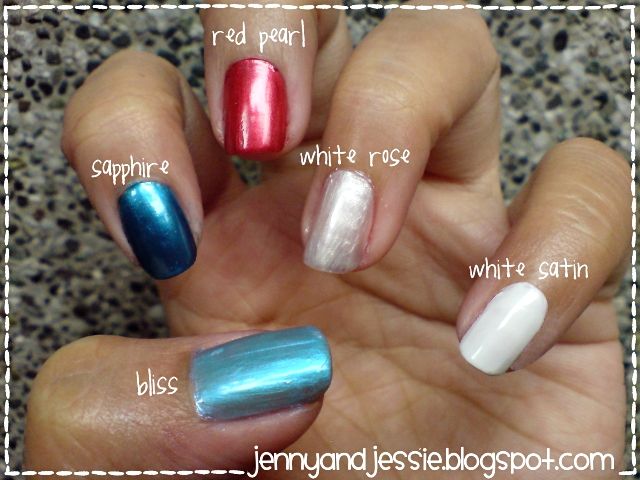 Personally, I love and hate Caronia Nail Polish. They do have a great selection of colors, but some of their nail polishes proved to be difficult to use, especially the White Satin. I found the brush too thin and the formula thick in the sense that it was difficult to achieve an even coverage. I don't know if the fault was on my part because I do get to read different blog posts using the White Satin and their nails looked really good. I guess I will just have to learn how to adjust with this formula. I won't be making a post exclusively for White Satin (because the bottle is nearly empty now after using it in different nail art attempts) and I didn't want to buy a new bottle as I would like to try other white nail polish made by different brands. The other four, I will be making exclusive posts in the days to come.
By the way, I used three coats of each color on my nails, without top coat.
Next set will be
Careline Nail Polishes
. I got to know about this brand through a few Filipino nail polish blogs, which sparked my interest. Last month, before traveling home after a lunch with a friend, I passed by Mercury Drug to buy a bottle of water and saw their nail polish rack with this brand. Priced at 10 pesos each, I bought 4 bottles (to make my total bill at 50 pesos as the water was 10 pesos as well) - Copper Rock, Fantasy Red, Tahiti Brown, and African Plum. Careline didn't have that much colors to choose from (but they do have a lot to offer), so I was quite surprised that I got another bottle of African Plum. At first I thought it was chocolate brown, but I was wrong. Lesson learned: Read the labels. :) The Frosted Beige I bought just last week, so I could make a swatch on all five fingernails.
African Plum was the most difficult to use among the five bottles - as you can see it was too thick and quite uneven, but I found a way to handle such formula, which I will share once I make a specific blog post about this one. Color wise, my favorite was the Tahiti Brown, but the biggest surprise would be Fantasy Red, as it was a one-coater.
Tomorrow, the last set of nail polishes in my collection.