With the growing number of nail polish bottles in my collection, it really is tempting to try nail art. I admit I am very much a newbie at doing such art, but I really don't want to let the Christmas season pass by without doing a few attempts. For this particular day, let me share two types of nail art I did concentrating on Red and White.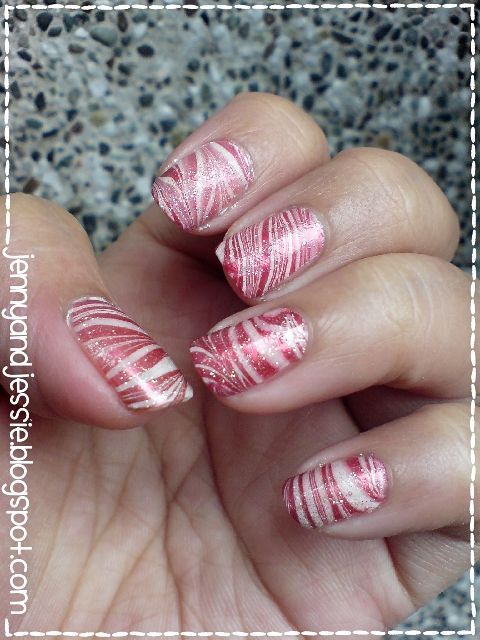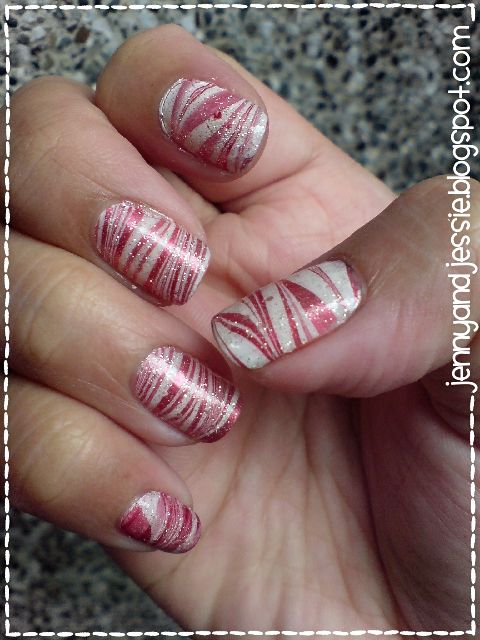 Candy Cane Water Marble Nail Art
I don't know when I first heard of such nail art, but when I learned about it, I tried doing it, but I always failed. Just recently, I checked Caronia Nail Polish's Facebook Page and saw the different water marble nail art created by different people and realized that Caronia is a good brand of nail polish to try. Using room temperature filtered water, a plastic cup and an orange stick, I tried doing it using two newly purchased bottles of Caronia Nail Polishes and was amazed when I finally saw the drops of nail polishes spread on the water's surface. This wasn't my very first water marble nail art, but the very first one I did also used the same nail polish shades – Red Pearl and White Satin. I hoped to achieve the candy cane look, but obviously it wasn't anything like that because the stripes are way too thin and it wasn't uniformly horizontal. Still, I was pleased with how it came out, and I know now that doing water marble nail art wouldn't be that difficult anymore. By the way, I also used Silver Glitter (by Chic) as a top coat.
Santa Hat French Tip
I learned to do this through a YouTube video I saw days before we had our Internet connection disconnected. At first, I hoped to buy a tube of nail polish in special nail art container, but while at the Landmark (Makati) last Tuesday, I decided to buy a dotting tool instead. I realized, buying the special container nail polish would only limit me to do white dots, whereas buying the dotting tool would allow me to create dots in different colors. Doing this nail art was quite simple, but quite tricky, especially for a newbie like me. For this one, I used four bottles of nail polishes – Tony Moly RE01 (red), Caronia White Satin, Careline No.53 (base coat), and Chic Silver Glaze (top coat). I started by painting my nails with the base coat, and when it dried I lined the tips of my nails with tape just to be sure that the tips straight. I then painted the tips with the red polish, taking out the tape as soon as I am done painting the tips. After about 4 – 5 minutes, I painted the silver glaze top coat, then I started putting the dots. It was my first time to do it so it didn't look so clean; my hands actually shook as I put the dots. For a first timer, I think I did good. I have two more nail art to try, which I will share tomorrow... or anytime within the week - we still don't have Internet connection at home :)