Finally, a time for me to update this blog. I am sure you'd agree with me that it is difficult to share one computer to four people wanting to use it, but since I have this chance, might as well carry on with the sharing of food I ate during the Ilocos getaway with mom and sis. Some pictures here were taken by my sister, well... she has given me the permission to claim it as mine, hence the different watermark in the images.
Food wasn't part of the amount we paid for this trip, so mealtime was up to us. Luckily, my mom came prepared - she packed some cups of instant noodles and some hard boiled eggs... and she also brought along her little electric pot, which served as our water heater. I am not used to eating breakfast, but since mom also brought some packets of instant 3-in-1 coffee and we were able to borrow cups from the resort the night before, I was able to sip some coffee while my companions ate their cup noodles and hard boiled eggs.
First stop for this day was the Kabigan Falls, and although the trek going there wasn't really tiring, all of us weren't able to resist the temptation of freshly cooked
Karioka
and other food items near the falls. For 10 pesos, it was actually happiness on a stick because it was delicious, the sweet rice flour balls were so soft, and it was a filling snack. I was able to eat 3 sticks of it (not because I was hungry but mainly because I just loved eating it), and I sipped some buco juice which sister bought.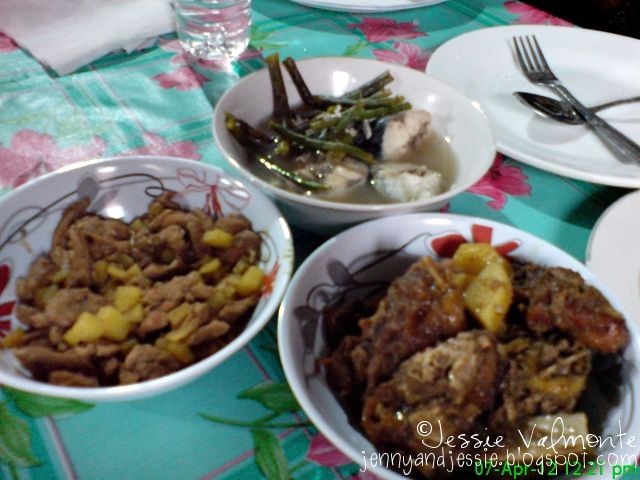 We visited a few stops... and for lunch we all went to Blue Lagoon. Our tour guide told us that we can opt to buy fresh seafood and just let stores at the Blue Lagoon to cook it for us, but since we were also told that there were little food shops selling already cooked food, majority decided that we will just consider buying cooked food.
It was Black Saturday and way too many people at the Blue Lagoon. It was difficult to find a place to eat, and in the end we saw ourselves inside this little carinderia, which turned out to be one of the worst dining experiences I have ever had. Just thinking about it makes my tummy churn, so if you wanna know the full story, head on to sister's food blog,
Tara, Let's Eat!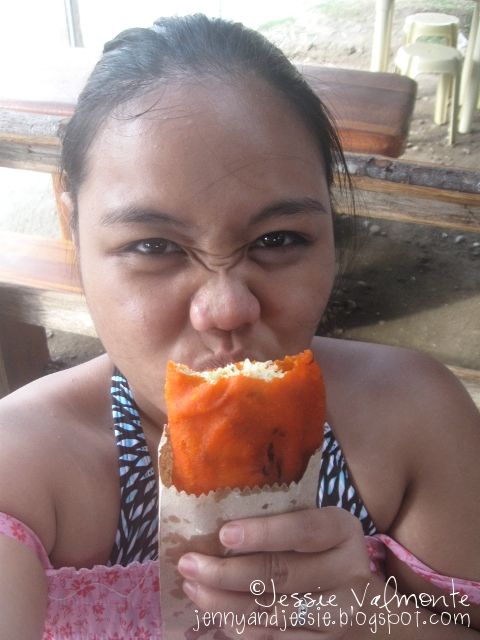 The itty bitty amount of food I ate for lunch was somewhat enough to stabilize my hungry tummy, but because all of us didn't have a good lunch (some actually didn't eat at all), we just asked the tour guide if we could just leave the place and take us back to the market so we could eat proper lunch. Well, it wasn't really proper as some of us were back to eating
empanada
(something we had for dinner last night), while the others - craving for rice - went to eat roadside barbecue as their viand.
Back at the resort, some of us took time to nap, others started tidying their things...and come late afternoon, we took a dip in the beach, which was walking distance from the resort.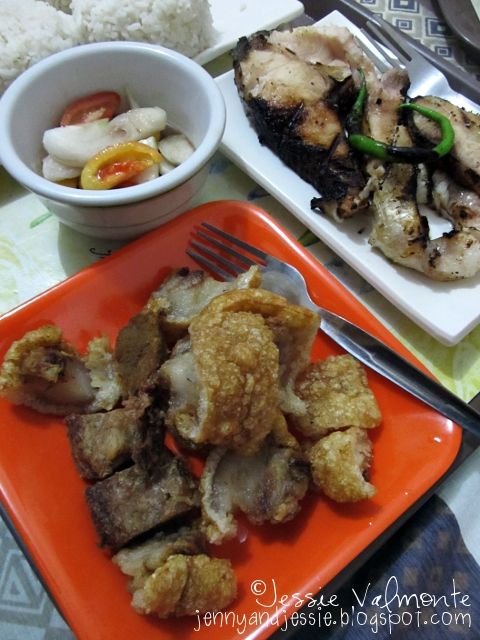 My sister, our friend Ria, and I checked different resorts for a place where we could eat, but when we got back at the resort to tell our companions about it, mom and her boss told us they just ordered dinner. Us 5 shared this plate of Bagnet with KBL (Kamatis, Bagoong at Lasona - or tomatoes, fish paste and shallots) and some grilled Maya Maya fish.
After eating dinner, we all went back to the shore because we heard there will be a Bikini Open, but waiting for it to start made us a little tired, so we went to one of the restaurants and had some
fruit shakes
. It was a refreshing drink after a tiring day.
We still walked along the shore and haggled for some souvenirs to take home before finally calling it a night. It was our last night in Pagudpud, tomorrow another round of joyride before traveling back to Manila.