Since last year, I have attended numerous featured classes at The Maya Kitchen. Each and every time, I was given a bag of goodies containing different Maya products, and as much as it helped me cook pancakes and champorado (chocolate rice porridge), receiving boxes of cake mix made me want to try it. We don't have an oven at home, so at first I used the steamer to "bake" cakes, but I guess it's a human thing not to be satisfied, and we truly wanted to really learn how to bake cupcakes (to start with).
When I tried baking the Butter Cake Mix in our oven toaster, it produced mixed results. The look wasn't what I wanted it to turn out, but we realized that there was a difference in texture and flavor between cakes cooked in a steamer and an oven toaster, and that experience gave us a gleam of hope that we can actually bake our own store-worthy cakes at home.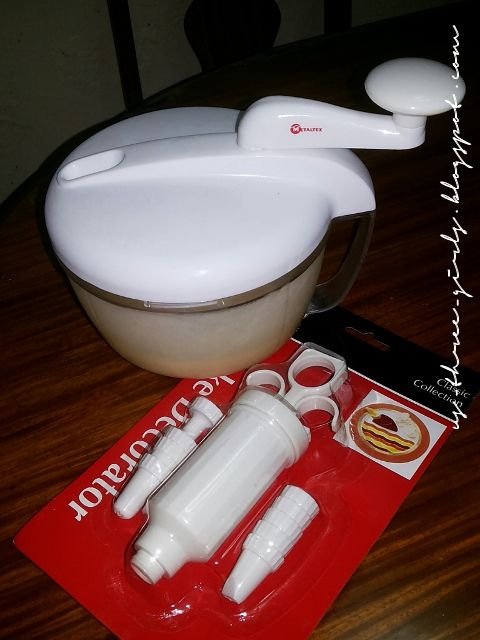 A month ago, sister and I had a mini-home shopping. It was her choice to go with the mixer. She said she pities seeing me carefully fanning out the lettuce leaves whenever I make salad and this would help me spin the water off the leaves. It also had a paddle and chopper attachments, which will be helpful when we make bread spread and chop a lot of onions and garlic whenever my mom hosts dinner events.
I chose to go with this handy cake decorator, because I truly want to learn how to frost cupcakes.
This shopping moment made my sister and I laugh out loud, because it seemed she and I were already planning to invest on items for the home and we had a funny realization that she and I might end up together forever.
Last Saturday, I decided to bake one box of the Whole Wheat Carrot Cake Mix. Taking the lessons I've learned after baking the Rocky Road Cupcakes, I was able to bake awesome cupcakes. The problem was the frosting. I really thought I could produce good frosting by just using what we had at home (blender), but it was just awful. Watching videos on YouTube, I realized an electric mixer is needed to create good cupcake frosting.
The next day, the girls and I went to the mall (because they initially needed to have a much needed facial session), and after, sister and I decided to check the home section of the mall to take pictures of the appliances and other items we want to purchase in the future - oven, standing hand mixer, juicer, pepper mill, tabletop condiment bottles, stick blender, and waffle maker.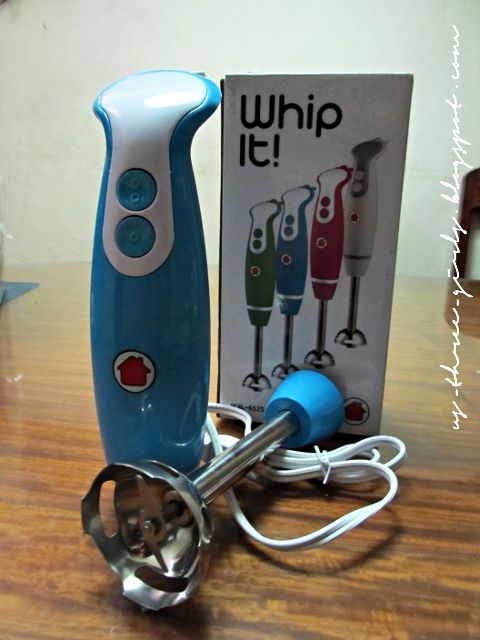 Walking around, we got to see a table of items marked with 50% off, and on it was the stick blender I wanted to buy since last year - when I had a scare pulsing vegetables for my soup using the blender (I tried scraping the sides using a spoon and it the blade). From 700 pesos, it was down to 350 pesos... sweet!
We also got to see an electric hand mixer, which was originally priced at 500 pesos. It only had 100 watts (a salesperson told us earlier that the higher the wattage of the mixer, the better performance it would have), but at 250 pesos... it would be an okay appliance to use to make cupcake frosting while we save up for the standing mixer we wanted to buy.
At 600 pesos, we were able to lightly cross items off our list. Sis and I shared all expenses, just so no one would claim ownership of the items if it comes to it, in the future.
As soon as we got home that day, we quickly put the mixer to the test and tried to cream the cupcake frosting. The final outcome was definitely better. Will share images and full story on my food blog this Friday.
Hooray for sale!
* Jenn *
ps - Max and Caroline, in case you don't know are characters of the TV Show, "2 Broke Girls." They are the ladies behind Max's Homemade Cupcakes.