I was quite surprised when I realized that it was nearly a month ago when I last updated this blog. Well, currently I am in the process of adjustment - adjusting to brother leaving, adjusting to mom being here at home, adjusting to my sister's ever changing work shift. Almost all house chores became my responsibility now that brother is no longer here to share the load, and balancing everything was a little too difficult for me to handle and it resulted in a very mild depression. At the moment I could say that I have found the light at the end of the tunnel - I have learned to manage my time well, so I guess it is safe to say that I can now start blogging again.
The past month brought me so much joy despite the big adjustment.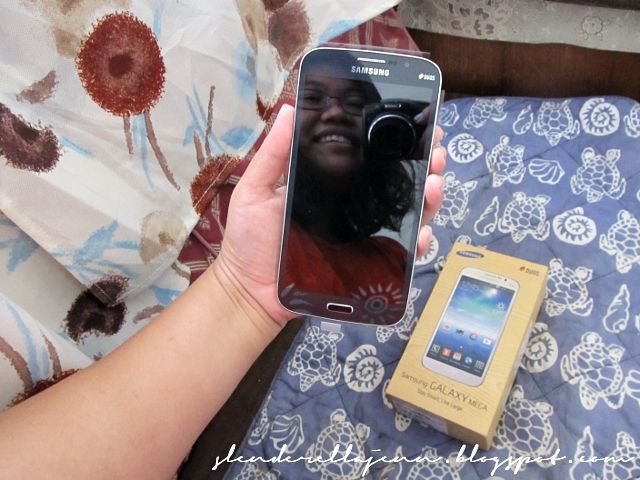 I won a new phablet - the Samsung Galaxy Mega 5.8 through a food photography contest hosted by Nom Nom Club. There were a lot of bloggers who hosted this giveaway (nearly 10, in my knowledge) and I joined in three. Nom Nom Club was the first one to announce a winner, and I was over the top happy to win. It was a very sweet victory because the very first task to do was to share the giveaway on Facebook tagging four friends, and tagging two of my blogger friends got them to learn about the giveaway and in the end, they were runner ups on the contest. These two friends of mine are really good in taking food pictures, so I was really happy that I got to win.
Last weekend of August, us three girls traveled to Boracay to use the accommodation GCs my sister and I won when we attended the Enjoy Philippines Mid-Year Party. It was my sister's first time to ride the plane, and I was sad for her because it wasn't really that much of a pleasant experience because our flight was delayed. From 2:30pm, we left Manila at 7:30pm, and it was already past 11pm when we reached Boracay (we took a flight going to Kalibo, which is still two hours away from Boracay by bus). Supposedly, mom was to sleep with me at Alta Vista de Boracay, but knowing that I still had to take the van going to the resort, she decided to stay with sister at The Tides Boracay.
It wasn't really a good time to visit Boracay because of endless rains the country was experiencing at that time. The beautiful beach wasn't as beautiful that time, and it was difficult to enjoy when the rain was always pouring. Still, I was glad that my mom and sister loved the experience and were very much open to travel back there for we weren't able to do the things we wanted to do because of the rains.
Two weekends ago, I was happy to be back inside The Maya Kitchen, attending another food class... this time with my sister. I also got to share some snacks with her before I went to SM Mall of Asia to attend the Grand Inaanak Day at the SMX Convention Center hosted by Max's Chicken.
At the event, I got to spend time with my dear blogger friend Vance, who just lost 20lbs (give or take) using a diet + body toning program. I am happy for her to have found something that would work for her, and she just inspired me to work harder on my own fitness program. Well, hers was a very effective program, but I don't have the money to enroll myself in it, so I will just stick to my own programs.
Despite the many lapses in my weight loss journey, I am happy to say that I was able to maintain my weight. No changes... I still am at 214lbs., but I am looking forward to losing weight and target 190lbs. by the end of the year.

Hello, Monday!