I was never a fan of okra. Born into an Ilocano (people from the Ilocos Region) family, I grew up eating all sorts of vegetables, but one unpleasant experience with eating an okra when I was still a child made me hate that particular vegetable.
I had a few vegetables I didn't eat when I was younger that I have learned to appreciate now that I am an adult. I have found ways to train myself into eating a certain kind of vegetable, but I admit I haven't tried it with okra yet. Two nights ago, my mom cooked our dinner - boiled taro root and eggplant in water seasoned with fermented fish paste, and eating the taro root reminded me of okra because it has the same slimy feature. It made me realize that if I could eat the very slimy taro root, I guess I can try and teach myself to eat okra as well.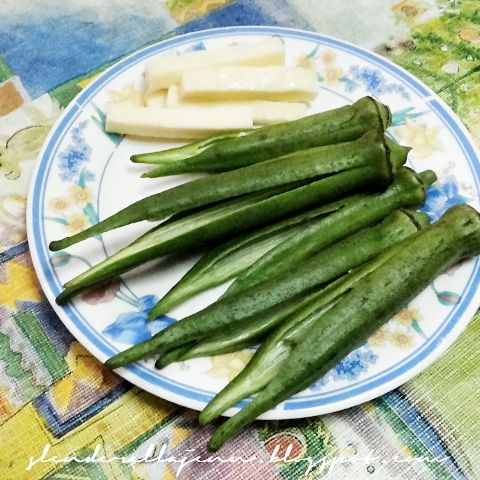 I remembered a news feature about ways how to cook okra, and among those recipes to try was the tempura style with cheese inside. Not a healthy way to eat something healthy (because it is fried), but it was the best compromise I could think of since this one didn't have the seeds. The final outcome was a little burnt, maybe I was hoping and expecting it to be crunchy. Hahaha.
Did I like it? I think so... but I only was able to eat 4 and a half pieces. Eating the fifth one, I no longer liked it, and realized that apart from the slimy texture, I also don't like the taste that much. Still, I am not giving up on this vegetable... it's not something I could see myself eating frequently, but I guess I can eat a few slices or pieces.
Baby steps.