I am a person who never really took the liking of shopping for clothes because of my weight. Back then, the word "sale" didn't appeal to me that much because I know I'd just end up frustrated.
When I started losing weight and saw myself fitting into some of mom's and sister's clothes, I started developing this desire of having new clothes. However, I don't really go out and shop, so I always just wait for the time I go out with mom and / or sis.
My very first online shopping experience I did in 2010 (when I bought my camera), but it was a COD transaction, and I met up with the seller. I check lots of online stores every now and then, but I am quite the paranoid type - if the seller won't allow meet ups, I would think twice before buying.
Such is not the case with my sister. She has bought bags and clothes online without having to meet up the seller. She would order, pay, and wait for the goods to be delivered. The look of happiness on her face whenever she had new deliveries was so contagious, I wanted to feel that happiness, too. Through her, I got to learn three online stores, and in one, I made my purchase.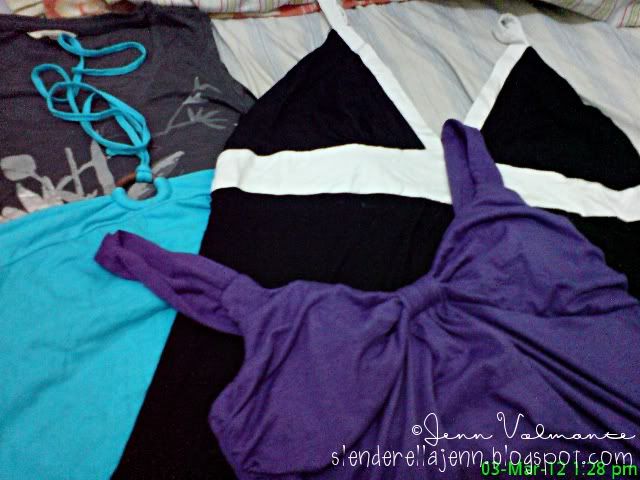 I bought four tops from the said seller (am not sure if they allow their store to be published elsewhere online, so will not name them). One of the risks of buying things online is the you're not sure of what you're getting because you can't touch the product, you will just have to rely on the pictures and the description given by the seller. In my case, I chose the tops that are L or XL in size just to be sure.
I went through the typical stages of buying online - signed up the order form, waited for the confirmation and the final bill (as I will shoulder the shipping), paid at the bank, sent the bank transaction code, and waited for the delivery.
When I received the package, I was like a kid handed a gift. I loved the tops I purchased! The purple and blue ones are size L, the gray and the black & white ones are size XL. Of course, I tried all the tops after opening the package and I got to fit in all of them, though the black & white one is slightly loose, but mom said we can alter the strap so it won't fall.
The gray top I wore last Sunday, when mom and I went to the shops as I am looking for a crossover bag (something that is slightly waterproof) that I can use for my upcoming trip. I didn't have much funds for it, I set aside an amount for me to use, and unfortunately, the bag I saw was way too expensive than my budget.
Anyway... what I wore:
> Top - David Hayes
> Leggings - something I bought at the tiangge, no tag
> Slippers - Ipanema
The money I used to pay for this purchase came from my "credit account." Taking to heart what Dr. Judith S. Beck said on her book to set aside an amount every time I recognize the goodness I did, I was able to save enough to reward myself. Right now, my account can is getting empty - a sure sign that I needed to fully get back on track and continue doing the goodness I am doing to myself.